Fabric sofas look essential for home necessities and can be cozy to a great extent. When it comes to clean them, it might be a significant dream for all of us. But stains are liable to happen from time to time and unless you want to praise your couch with those beautiful plastic covers. For that, you all need to know how to clean fabric sofa using various supplements. There are various types of fabric sofas. Be it a recliner, sectional or any types. Though it's an affordable option, but if you don't clean them timely, it's gonna be very hard to maintain it in the long run. Stick with us & learn how to clean fabric sofa properly.
It is a routine fact of life that sofas get dirty. And if its a fabric sofa, the dirt seems to be sticking to it. Chip crumbs used to get into the cracks, drinks can spoil the surface, and pets can pour mud all over the surface of these robust and attractive pieces of furniture. You may think that it is impossible to get rid of these hard stains & dirt. But no, it isn't. Here's how to clean a fabric sofa easily at home.
Luckily, it is pretty easy to clean fabric sofa. All we need some time to perform it and some qualified items to fight against the dust.
Cleaning a fabric sofa requires the right alternative so as to prevent damage to your couch.
Some Preliminary Precautions
In this part, we will consider a detailed study of cleaning fabric sofa with water and other ingredients. But before proceeding further, you need to determine some essential facts like:
You need to read the manufacturer's instructions
Most importantly, you need to review what the manufacturer has written on the sofa instructions. It can provide you with useful information on how to clean your fabric sofa when to clean and many more. If you avoid this, you can face severe loss on your couch.
Proceed to tags attached there
Similarly, in case you do not found any instructions list on your sofa, you can search for tags. It can also tell you a lot regarding the washing status, time, etc.
Read the guidelines properly
Mostly, you will find the following letters with some instructions and meaning given there. Here is what they mean:
W —You can use water to clean it.
S — You cannot use water. Go for a solvent-based cleaner for the purpose.
O—It indicates that the product is organic and you need to use cold water for washing.
WS — You can use any of them: water or a solvent-based ingredient.
X —You can clean the fabric sofa using a vacuum cleaner only.
You should never ignore the recommended cleaning methods on the tags:
Obviously, if you clean your fabric sofa with water, if it is labeled to clean with a special solvent-based cleaner, you will be on a losing side. Water will leave stains on your couch, so do not take a risk by going opposite to the given directions.
Follow the guidelines listed on the tag and never try to avoid them at any cost. They are the manufacturers and they know how to clean a fabric sofa.
So, let's move further to explore various methods to clean the fabric couch naturally at home.
Method 1: How to Clean Fabric Sofa without Water?
Before applying any of the methods with ingredients, you should consider cleaning your fabric couch without using water. Do some initial steps before using chemicals on your beautiful furniture. You can do it without water as follow: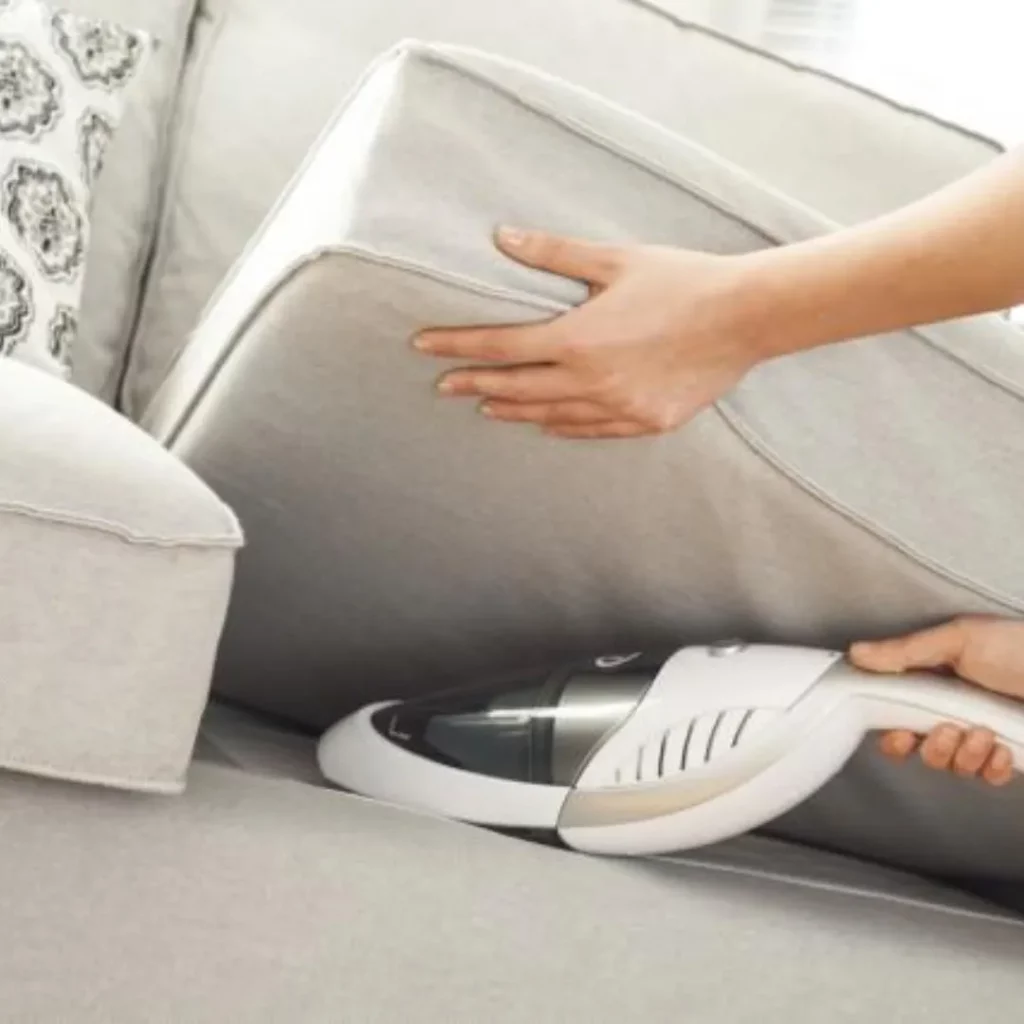 Remove the large dust particles:
Before entering into the deep-cleaning, you should remove any debris or dust particles from the surface of the sofa. For this, you can use a dust-buster or any other full-sized vacuum cleaner to clear the couch.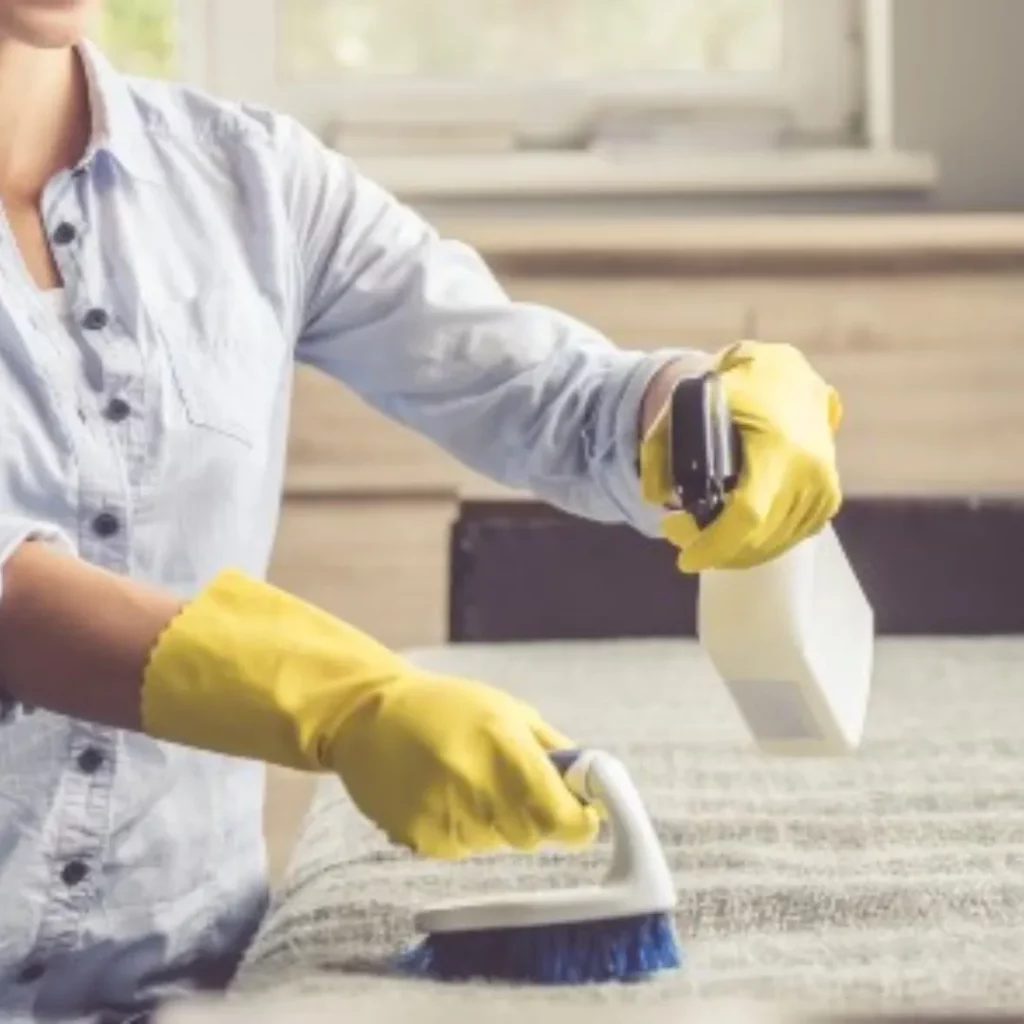 Use a brush with bristles:
If you found spots with heavy dust or dirt inserted in, you must use a stiff-bristled brush to remove the spots and vacuum up the sensitive dirt. Rub vigorously, but keep your sofa safe.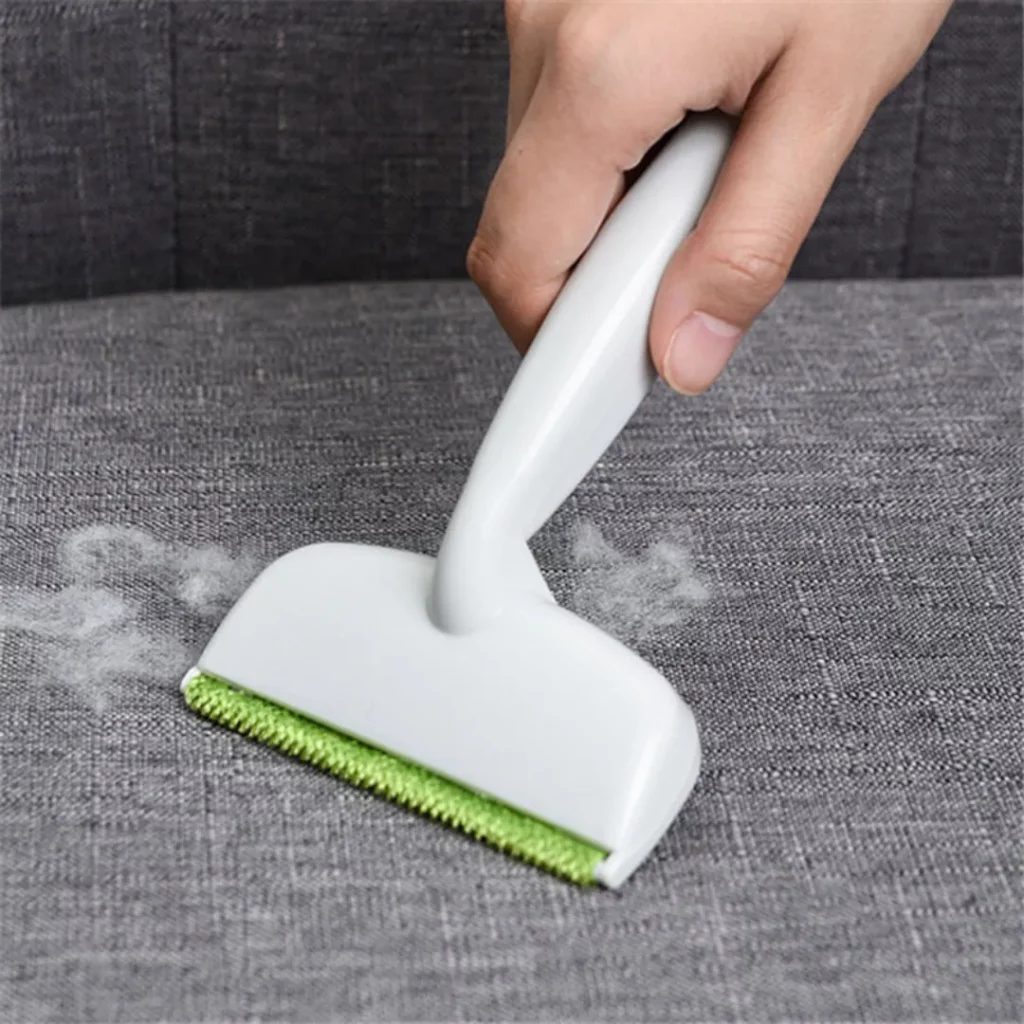 Remove any lint and fur:
Although some manufacturers make products specifically for households having pets, your normal vacuum cleaner won't be able to eliminate lint or pet hair thoroughly. So, you can use a lint roller or comb to remove what the vacuum cleaner can't.
Clean the hard surfaces if any:
Most of the sofas have exposed wood or other materials. You should also take care of them by giving proper attention to them. To clean the hard surface, you need to use a suitable product for the surface you want to clean. A multi-purpose surface cleaner can work here if you don't have a surface-specific product at the time.
Method 2: How to Clean Fabric Sofa with Baking Soda?
Baking soda is quite a useful ingredient for cleaning everything we have at our home. It can clean electrical items like stove burners to sneakers, and your fabric couch is no exception at all.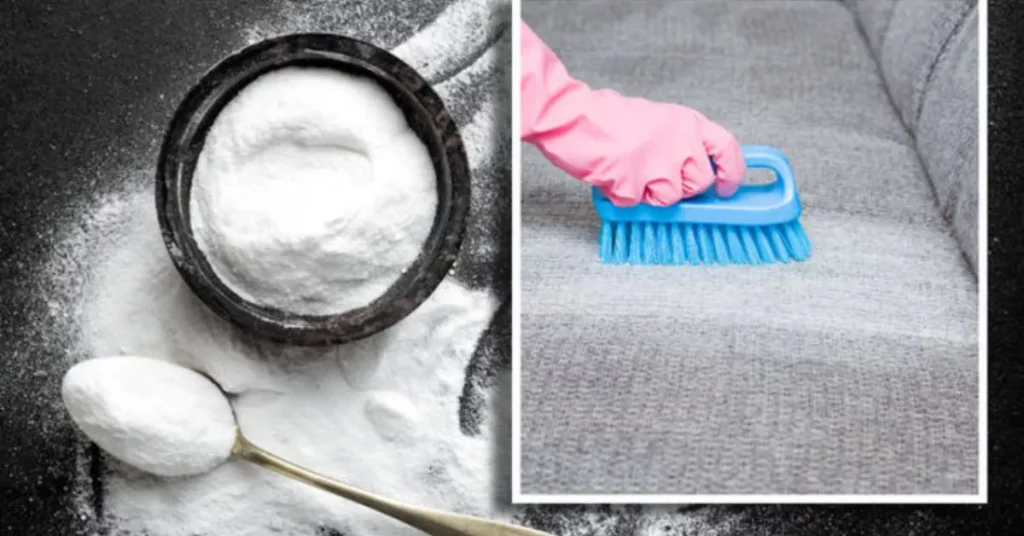 Read out the benefits of the power of baking soda to remove the dust in just a few minutes.
To clean your fabric sofa with baking soda, you just need a few things to go through the cleaning process: baking soda, 2 clean white cleaning cloths, and a vacuum machine with an attached brush.
First of all, wipe down your fabric sofa with a dry, neat cloth or clean stiff brush to take out any dust or dried on gunk off.
Put baking soda on your couch and let it down for at least 20 minutes. Moreover, if you want to clean it deeply, you can mix in a dry carpet cleaner.
Now, vacuum the baking soda up with the brush attaching machine.
Further, spot cleans any robust stains that remain with a cleaning solution that is favourite for your couch's fabric.
Here is an important suggestion for you. You must check the power of your baking soda solution before applying to the whole couch. For it, you can conduct a little test on a hidden part of your couch to see whether it is working correctly on your fabric couch or not.
This test will help you to prevent damage to your sofa.
Method 3: How to clean a Fabric Couch with a Steam Cleaner?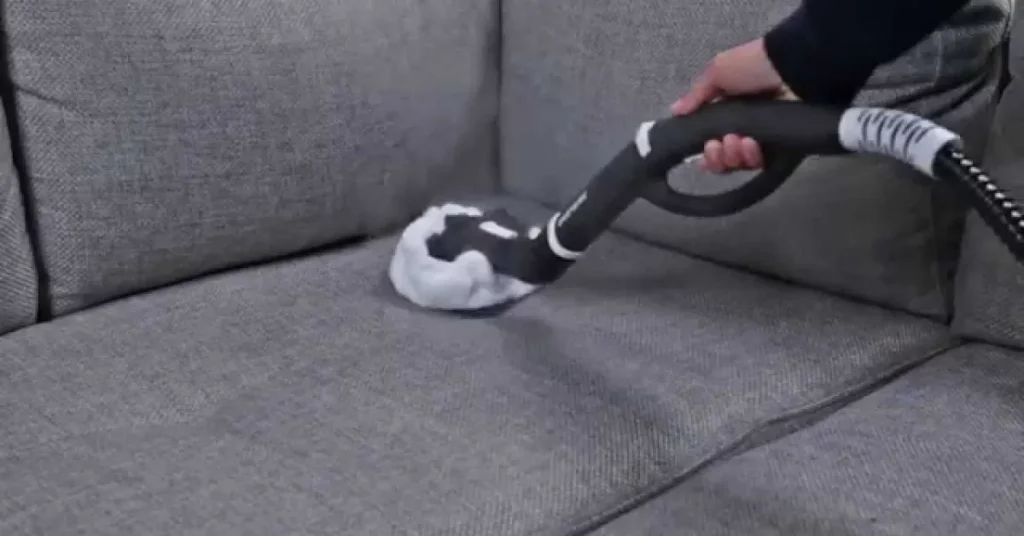 Now, we have come to method number 3 of cleaning a fabric sofa using a steam cleaner. Generally, the households always want to know how to clean fabric sofa naturally without causing damages off the chemicals.
You will be amazed to know there are many types of microscopic organisms lurking in your couch. They can be food particles, pet dander, viruses, germs, molds, bacteria, and other pathogens. So, we all need to remove them from the deep parts to prevent any harmful disease in the future.
How to treat them? Is wipe cleaning enough to get rid of them? The best solution you can find is to use a steam cleaner. With hot water steam, the couch can easily be disinfected with full effectiveness.
Therefore, steam cleaning can be a great way to remove the dust without causing it to be harsh on the couch. It is an environment-friendly technique, which can remove around 98% of the germs very effectively.
Guide to Steam Cleaning a Fabric Couch:
Pre-condition your fabric sofa:
Most possible that special fabric pre-conditioner might not be available in your nearby average grocery store. Therefore, you can purchase it online if you can't find it elsewhere. The pre-conditioner solution is used to weaken and loosen soiled debris for easy removal during shampooing.
Ready the steamer:
To make the steamer workable, open its cap and fill water in its boiler. Then, replace its cap and ensure its firm position. Attach the steam gun and activate its safety lock to prevent the release of steam. Now, plug the cleaner in an electrical source and let it heat up.
Have a spot-test:
Before applying the steam on the whole sofa, make a little test of it. You can do it on a small portion of the couch, perhaps on the back. It is to make sure that hot steam is not damaging your sofa. If it is not, you can proceed to apply the steam on the whole couch.
Start steam cleaning from the back:
You should start the steam cleaning process right from the back of the sofa. Consider a section and apply the steam cleaner's brush over it for 1 to 2 times. Then move to the next section. Take out the cushions from the sofa and run the steam cleaner inside the part with circulating mode.
Proceed to front:
Now, you can come to the front side of the couch. Go through the whole area with a brush attachment for 1 to 2 times again. You can open room windows to allow ventilation. Similarly, you can also use a dehumidifier to finish the drying process early.
Conclusion
Fabric sofa is such a sensitive furniture item, which requires a special kind of care. As it is made of cloths, fabrics, etc., so, we need special arrangements to clean it without obtaining any damage.
Correspondingly, we have discussed some methods to let you know how to clean fabric couch with/without water by keeping their original shining intact. Various cleaning detergents and chemicals are available in the market, but you must be careful while using them. Make sure to read the instruction given on the couch and follow them strictly.