Are you thinking of replacing your existing sofa? Or thinking of buying a new one for your living space?
You could be interested in checking out one of the most trending pieces of furniture which have made a comeback – Sectional Sofa.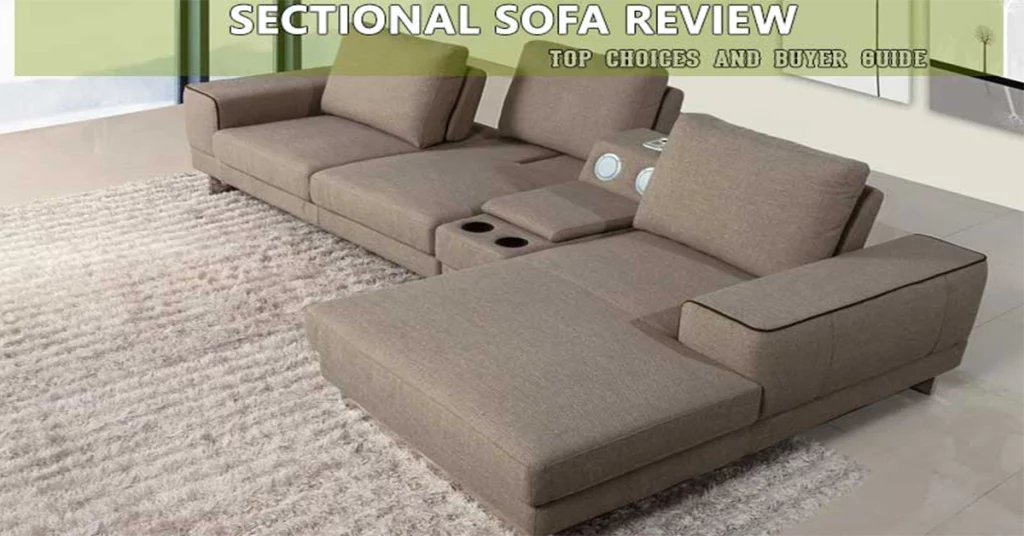 If you are looking at maximizing the number of people that can sit on a sofa or are looking at a comfortable sofa in which you can fall asleep, a sectional sofa is the right choice for you.
Sectional sofas come in different shapes and designs, which can be altered to suit your living space. The flexibility that it offers in gaining the maximum space utility is one of the reasons for rising popularity in the sectional sofas.
With a sectional sofa, you can alter the positioning and placement of the sofa as per the size and shape of the room.
Choosing the Best sectional sofa
There are multiple things that need to be checked to buy a suitable sectional sofa for your living or office space. The design, material used, the support frame, cushioning, etc. are just a few of the various aspects that you need to look out, before making the final choice. Furthermore, there is always this challenge of low-quality products that can deceive you into being believed as genuine ones.
We understand all these challenges that you face and hence have come up with our review of the best sectional sofa options for you.
In this article, we enlist and discuss the 10 best sectional sofas of 2023, so that you can know more about them and try to choose the best one that suits your requirement. To help you further on choosing the right option, we have also provided a buyer's guide which contains information about what to look out for while buying a sectional sofa.
Sit back and read through our reviews as we take you on a tour of the sectional sofas that we consider to be the best.
Comparison Table of 10 Top-rated Sectional Sofa
Image

Product

Features

Price

Rivet Revolve Sofa

* Fabric
* Convertible
* 34.6 x 79.9 x 35.4

Poundex PDEX-F7606

* Linen
* Convertible
* 35 x 76 x 35

Homelegance Platina

* Polyester Fabric
* 87 x 103 x 32.5

Harlow Right L Sofa

* Micro-fibre
* Convertible
* 85 x 109.5 x 35

Coaster Home Furnishings

* Leather
* 91 x 91 x 36

Bed Living Room couch

* PU Leather
* N/A

Divano Roma Sofa

* Micro-fibre
* 106 x 77 x 33

4087 – Bonded Leather

* Bonded Leather
* 72 X 41 X 31

Modern Bonded sofa

* Bonded Leather
* Convertible
* 78 X 54 X 54

Velvet Fabric U sofa

* Velvet Fibre
* Convertible
Top 10 Best Sectional Sofas Review in 2023
Selecting the best sectional sofa is not an easy task, especially with the multiple options available. Hence we have researched the multiple options available and have come up with a list of the 10 best options for you. In this review, we have provided all the details of each sofa along with the "best" and 'Not so best" features. Have a read through the review and you may find a sectional sofa that best meets the specifications you have.
1. Rivet Revolve Mid-Century Simple and Modern Sectional Sofa
The simplicity of the overall design is the most attractive feature in this sectional sofa from Rivet. The most elegant of designs have simplicity as the core, and this sofa is an example of that. The slim-line along the sofa adds on to the elegant look of the sofa.
Perfect seating comfort
The cushions of the sofa offer comfort to sit in for a longer period of time. At the same time, they aren't too cushy that you sink in them and find it a challenge to get out of it.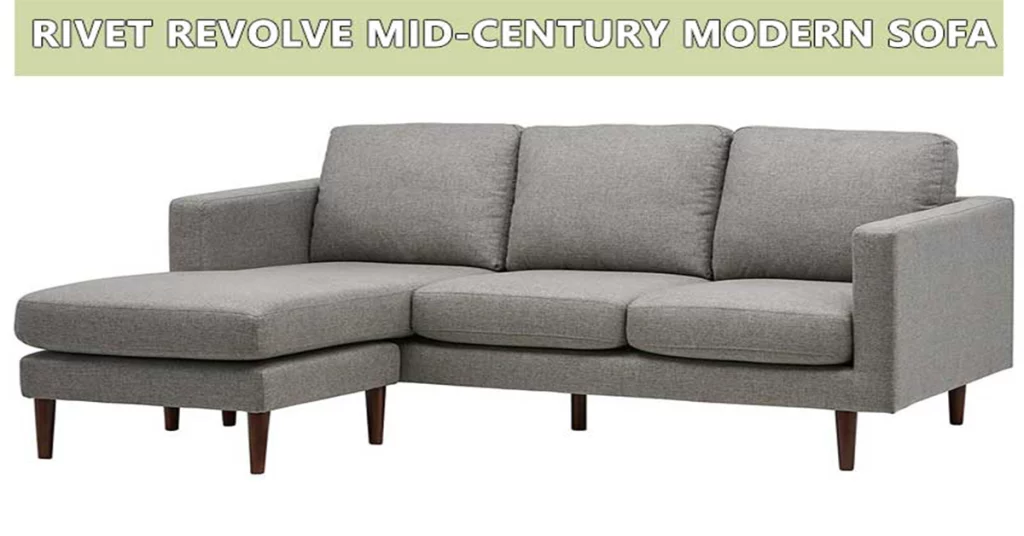 Adjustable design
The chaise provides the option of being moved at either end of the sofa. This allows you to configure the sofa as per the shape and dimensions of the room you are placing the sofa in.
Comfortable dimensions
The dimensions of the sofa allow comfortable seating of 3 people. Anyone with less than 6 feet in height can comfortably stretch their legs and lie down on the sofa.
Balance and stability
The Sofa is supported on wood legs made of beech. This provides stability to the sofa and it does not trip easily. You would not have any wobbly effect while being seated on the sofa.
Sturdy frame made of hardwood
Multiple color options
Easy to assemble
Moderate seat depth
Upright back seating
The chaise is marginally higher than the sofa
Bottom line:
This sofa from rivet is one of the best-selling sectional sofas. If you are looking for a sectional sofa, which is simple, durable, and would fit into a modern living space– this is one of the better options to check out. The sofa is a good option for anyone under six feet to stretch and lie down, but would not be suitable for someone who is more than 6 feet.
Read Also: Exceptional Sectional Sofa Layout Ideas
2. Poundex PDEX-F7606 Sofa with Durable long-lasting comfort
The cushions of the sofa have a foam-filled up in it, which provides for comfortable seating. The firmness is perfect and the springs inside the cushions of the sofa provide strong support and make the sofa more durable.
Patented Design
The Sectional sofa has a US patented design, which allows for the easy adjustment of the chaise to be set either with a right or a left-sided configuration.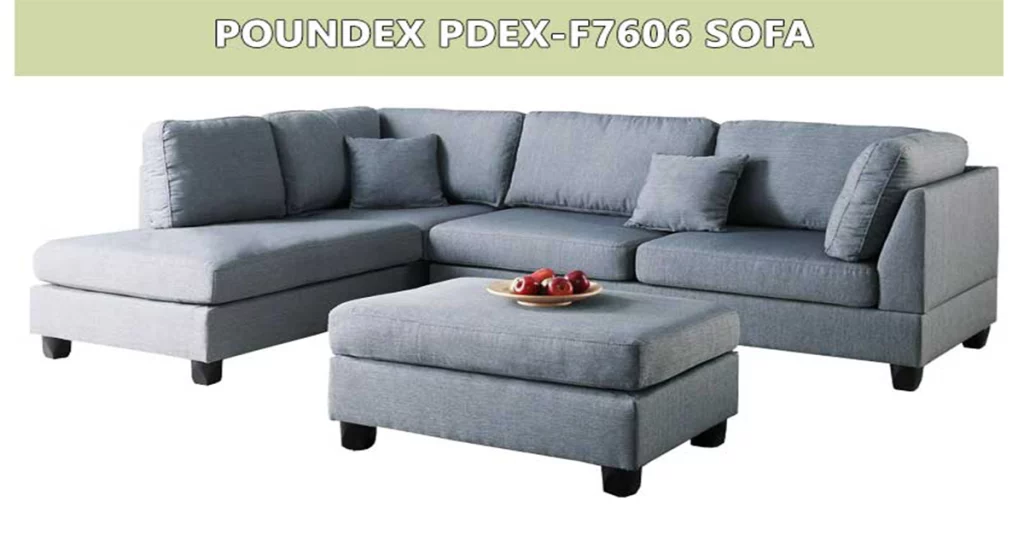 Modern Look
The sofa comes in a Grey color, which adds a dash of a modern look to the sofa. The unassuming yet elegant color would ensure that you can place the sofa in most of the spaces.
Loose Pillows
The couch set comes with additional loose pillows. These pillows not only provide for additional comfort while seated, but they also act as support while lying down. You can comfortably rest the back on these soft foam cushions when seated.
Linen-like upholstery for wear as well as elegance
Reversible sectional design
Easy assembly
Comfortably seats 3 people
Strong leg support
The cushions tend to slide regularly
Bottom line:
The sofa offers a sturdy durable design coupled with comfortable seating, which makes it one of the best sectional couches you can check out. At the price range, it offers value for the money being spent. This is ideal for anyone who is looking for a "not plushy yet comfortable sofa" option.
3. Homelegance Platina 103″ Multipurpose Chaise Sectional Sofa option
This sectional sofa from Homelegance offers multiple benefits all rolled up into one wonderful deaf unit. This is an exceptional sofa piece, which is great on looks and comfortable to sit on. Apart from this, it can be extended to comfortably lie down and relax. The Ottoman which comes with the sofa set can be doubled up as a storage unit.
Adjustable Sofa rests
The sofa rests that come with the sofa set are easily adjustable. You can conveniently adjust them to have that extra bit of comfort while sitting or stretching yourself to relax.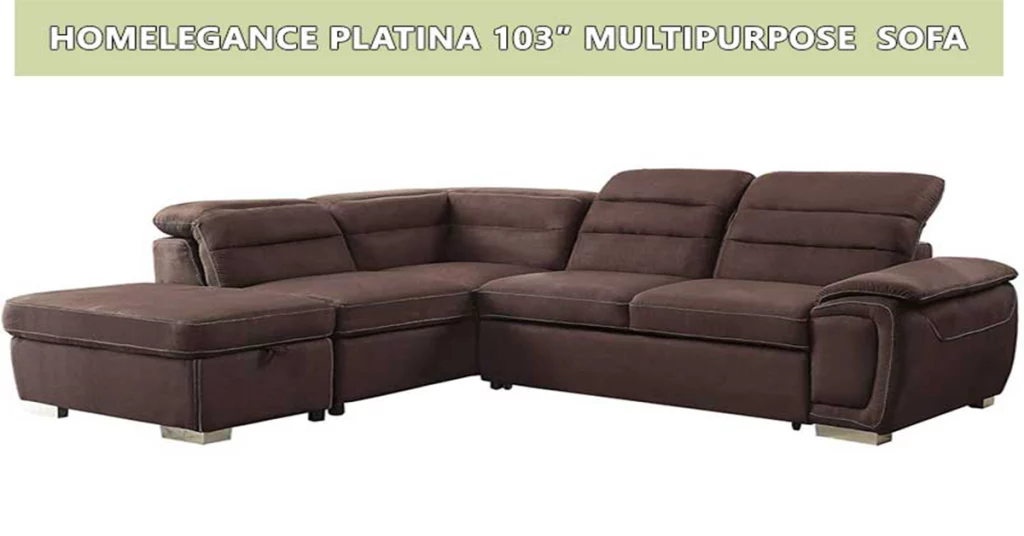 Durable Upholstery
The upholstery is made up of durable polyester fabric. This fabric is not only great to look at and feel, it is also highly durable and can be maintained easily.
Storage Capacity
One of the unique aspects of this sofa set is the storage option. The pullover Ottoman has a storage cabinet, which can help you store some items which would be needed in your living space for easier accessibility.
Easy to assemble and move around
Hassle-free conversion into a sleeping unit
Additional comfort and high adjustability
Solid and stable construction
Elegant chocolate-colored fabric
Plastic legs don't go well with the overall look.
Bottom Line:
This is one of the best-rated sectional sofas with most of the consumers having positive reviews about in many forums. The best advantage it offers is the multipurpose use as a sofa, bed and storage unit. You can place it either in your living room or at a hangout place to comfortably seat many of your family members and friends.
Read Also: The best sofas with back support
4. Harlow Right L-Shaped Low-priced Comfortable Sectional sofa
It is one of the best affordable sectional sofas. It provides all the features that you expect out of a sectional sofa at a very reasonable and affordable price.
Durable fabric
The upholstery of the sectional sofa is made up of micro fabric that lends durability and easy maintenance to the sofa. The fabric looks rich and has a leather-type look to it.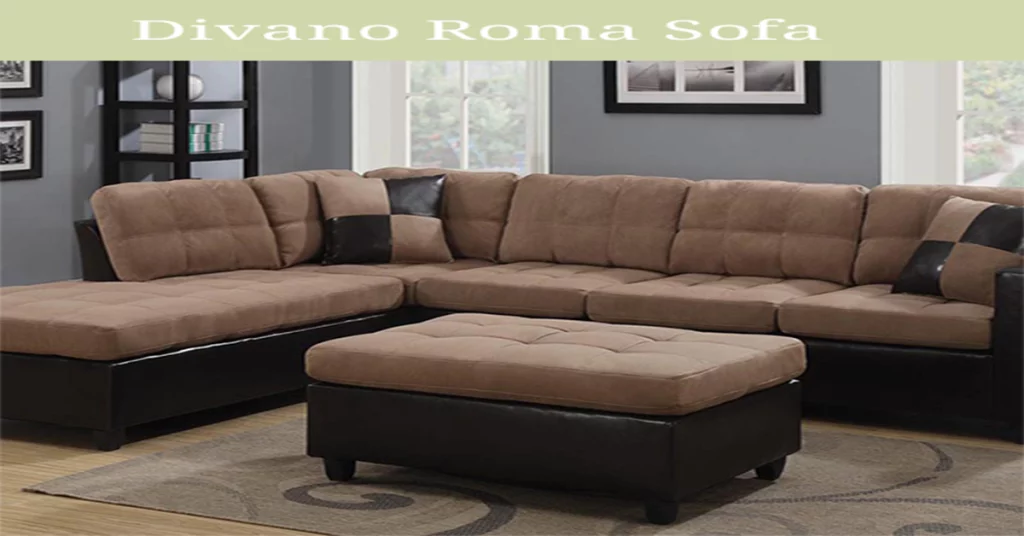 Comfortable seating
The cushions of the sofa set have high-quality springs, which allow for a comfortable seating experience. These springs are durable and flexible over a longer period of time and hence you can enjoy the comfort for a longer period.
Easy to assemble
The sofa has a simple design and can be easily assembled. However, the instructions which are provided with the sofa set can be clearer. Nevertheless, you can easily figure out how to assemble it even without the instructions.
Best value for money
The webbed base for stronger support
Simple design
Elegant beige color combined micro fabric leather look
Legs are not sturdy
The cushion seats tend to slip off
Bottom line:
This sofa caters to a specific need– a lesser price sectional sofa set which would be a good addition to the living space. Although it is not top of the charts as for the features, it is a decent sectional sofa for the price you pay for it.
5. Coaster Home Furnishings 501711 Compact fitting Sectional sofa at affordable price
The upholstery of the sectional sofa is made of genuine leather. At the price it is on offer, one would generally expect a leather imitation, but the sofa does surprise you by being made of genuine leather.
Compact and elegant design
The design of the sofa is compact, and it could fit well even in less and less tight spaces. The design does not have any additional frills. It is a simple right-angle structured sectional sofa that you can either put into the corner or make it the center of open space.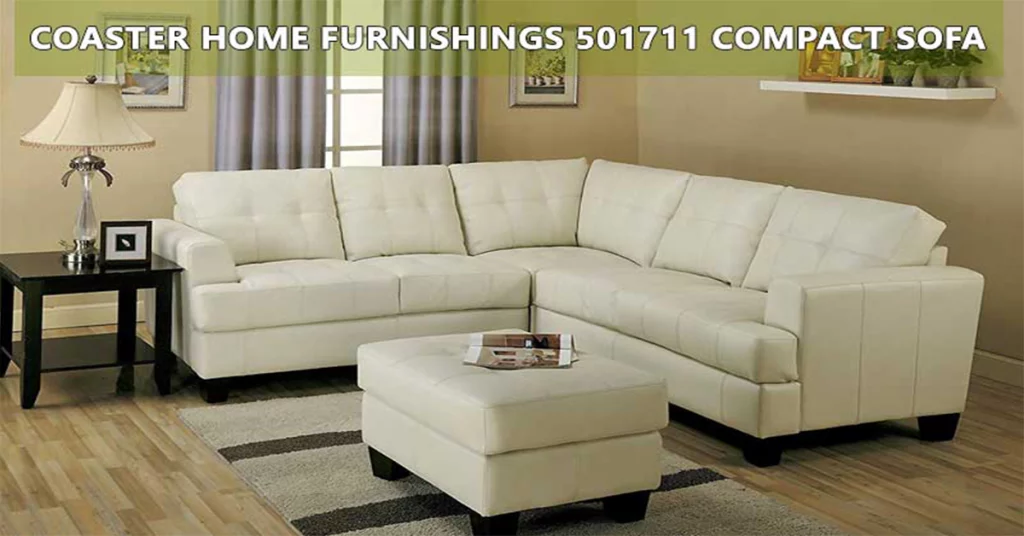 Rich and classy look
The upholstery is made of leather in creamy-bone white color. This color lends a tone of richness as well as classiness to the sectional sofa set. Since genuine leather is used, the overall look and feel are great. It has a shine on it, which makes the overall look more stunning.
Easy maintenance
The stains and dust can be easily cleaned. This allows for low and easy maintenance; in turn resulting in maximum durability.
Strong and sturdy
Attached non-slippery cushions
Clean lines in the design
Cushy and comfortable seating
Easy to assemble
Bottom line:
The sectional sofa offers more than what you might expect for the price, making it one of the best sectional sofas for the money you paid for. The genuine leather, the bone-white color, the comfortable seating and the compact design, etc. make it a good choice to buy.
6. Best option for a Living Room sleeper couch Sectional Sofa
If you are looking for a corner couch that also doubles up as a sleeper option, this couch is one of the better options available. Apart from providing a large seating capacity, it easily extends into a sleeper couch with ample leg space to fully relax. It can be easily converted into a bed within 3-5 seconds.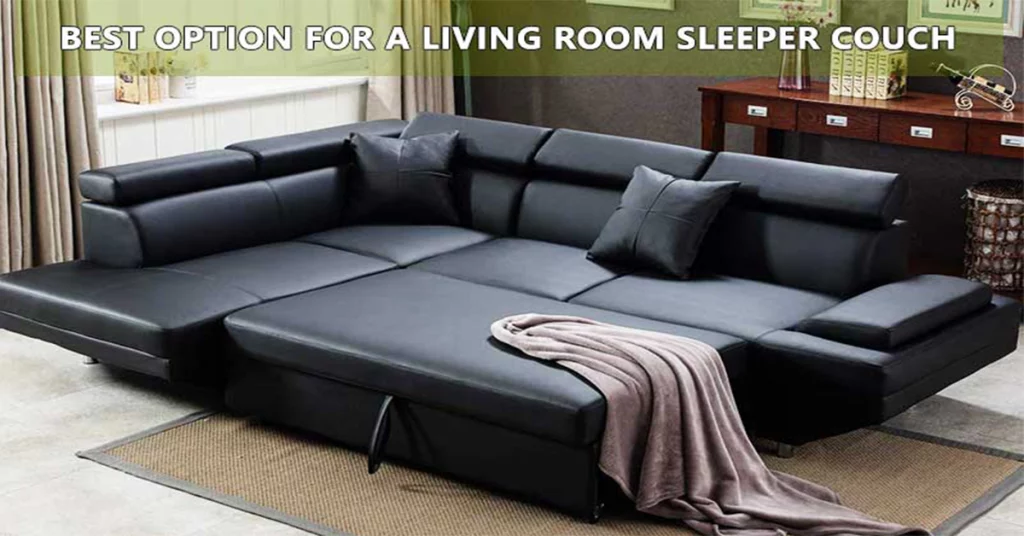 Comfortable cushion
The cushion padding is made up of a highly resilient sponge that provides for additional comfort to sit on for a longer period. The elasticity of the sponges in the padding helps to absorb more weight and any shocks, making it harmless to fall on it.
Solid wood structure
The structure of the sofa is made up of solid wood which is stronger than pine wood. This lends a great deal of strength to the sofa and can withstand heavier loads.
Adjustable headrests
The sofa comes with adjustable headrests, which provide additional comfort and support to your head while resting.
Easy to assemble
High-quality PU leather material
Easy to clean the stains
Water and moist resistant
Crisp and professional stitching and welting
Bottom line:
This sectional sofa offers more space to sit on and also when it is converted into a bed, making it one of the best deep sectional sofas. PU leather is a tricky option that can tear off after use and can develop the problem of mold. However, overall it offers great comfort as a couch + bed and can accommodate multiple people comfortably.
Read Also: Top 10 Picks of Best Loveseats
7. Divano Roma Two Tone Ultra-modern designed Sectional sofa
The sofa features a unique ultra-modern design which makes it a wonderful option for a modern living space. The simple lines, two-tone color, upholstery, finish, etc. all make up for an elegant and appealing design.
Microfiber upholstery
The upholstery is made up of microfiber which not only adds to the style but more importantly is a durable option. The microfiber along with bonded leather makes up for a chic two-tone look.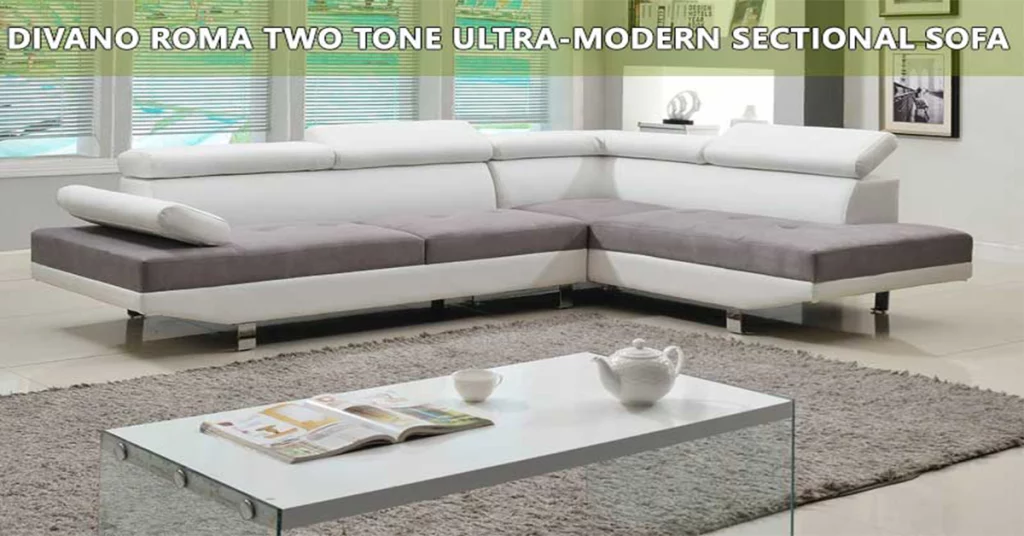 Chrome Finish
The legs of the sectional sofa have a chrome finish that complements well with the tone and style of the cushion, providing an overall great look.
Foam Cushions
The seating cushions are filled with foam, which provides for comfortable seating, even for extended periods of time.
Adjustable arm and headrests
Easy to maintain and durable leather
Smooth lines and design
Easy to assemble and move around.
Has only a Right-handed sectional option.
Bottom line:
The sectional sofa offers a contemporary look that blends well in a modern space. Furthermore, it has one of the best prices on sectional sofas making it a less costly option for you to buy. It is not the best option around for sleeping but offers comfortable seating for a longer period.
8. Ultimate recreational 4087 – Bonded Leather sectional sofa
This sectional sofa has multiple features to be the right option for recreation and relaxation. Apart from the comfortable seating, it has leg rests to comfortably spread out your legs. Furthermore, the sofa comes with cup holders to hold any beverages or food, providing you an all-in-one option to relax while watching anything or just lazing around.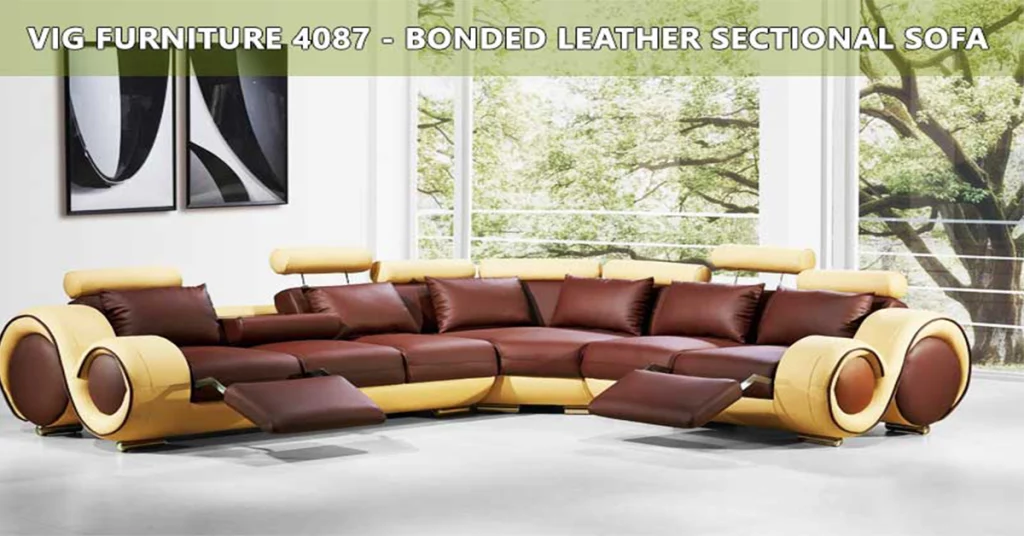 Pull down backrests
The sofa comes with an adjustable backrest that can be positioned and adjusted as per your comfort, thereby providing good relaxation for the neck.
These backrests can also be pulled down and can be converted into a cup holder and as a tray. You can store your beverages or food while binding on any TV show or when having a catch-up with family and friends.
You can pull it down when not required and convert it into cup-holders as well as a tray.
Unique design
The sofa has a unique curve design that is not found in most of the sectional sofas. While this feature limits the scope of placing the sofa in a corner, it has more utility when it is placed stand alone as a centerpiece or paired up with other pieces of furniture like an Ottoman.
Comfortable cushioning
Two-tone color scheme
Adjustable footrests
Small and compact
The leather is not of top quality and tears
Bottom line:
A sectional sofa is a good option for your living room or personal space where you hang out with your friends. It is one of the best inexpensive sectional sofa models that are available.
Read Also: Best Ways to Condition Leather Couch at Home
9. Best space utility Modern Bonded Leather sectional sofa set
The sofa set is a small and compact designed set, which you can fit into most of the spaces. It does not occupy much space and even the structural design ensures that the best of the available space is used.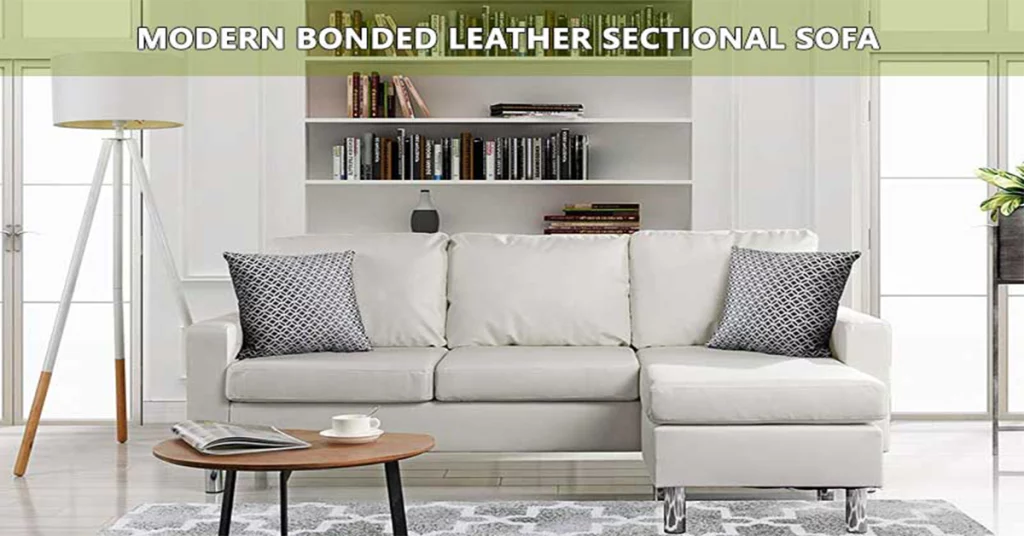 Easy configuration
You can easily maneuver and configure the sofa set as per the space available. It does not take much effort to move around the different sections.
Elegant look
The white bonded leather gives it an overall elegant look, which blends well in most environments. It further adds on to a distinct look.
Bottom line:
This sofa is a budget option that can be your first sofa or an additional piece. It offers value for the money invested and is one of the best sectional sofas under 1000.
10. Comfortable Velvet Fabric U-Shape sectional sofa with large seating space
The sofa has a large seating space which can accommodate nearly 6 people comfortably. The chaise is of double size and is extra wide.
Soft and durable upholstery
The upholstery is made up of velvet fabric, which apart from being durable is also soft and comfortable.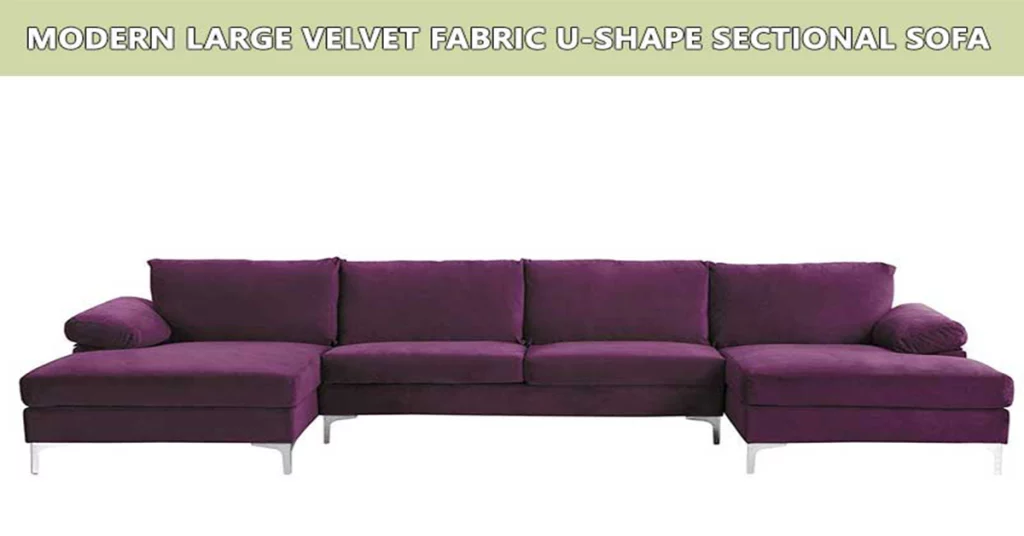 Comfortable Seating
The cushions are made up of memory foam, which makes the sectional sofa cushy and comfortable to sit in.
Chrome legs
The sofa comes with chrome finished legs which complement well with the overall look of the sectional sofa.
Multiple and vibrant color options
High-quality fabric
Exact measurements and easy to assemble.
Firm cushioning
The legs aren't of quality build and can break apart
Bottom line:
It is one of the best quality sectional sofas with a premium finish and ample space for seating and lying down. Coming in multiple color options, you can choose the one the best fits your living environment.
Related article: Top 10 Best sofa for back support review
Buying guide to select the best sectional sofas in 2023
Sectional sofas are an ideal option if you have a larger number of people to be regularly seated or you prefer lounging out on your sofa rather than just sitting upright.
Earlier, there were not many options available for sectional sofas, but of late with the increased demand for sectional sofas, a wide variety of models with varied designs, build, material, etc. have now come into the market. We have already provided you with a list of the top 10 options for sectional sofas that we consider to be the best. However, the individual requirements differ, and you may be looking at a sectional sofa beyond our listing.
To help you out with this venture, we have prepared a buying guide that would provide you with all the information that you would need to make the right selection of sectional sofa that would satisfy your specific requirements.
Before you go about buying a sectional sofa, the first question you need to ask yourself is:
"Why to buy a sectional Sofa?"
There are three main reasons that you can consider and see if your requirement matches up to any one of them, if not all of them.
1. I need to utilize the space well:
The main reason many tend to go for a sectional sofa is to utilize the available space well. The sectional sofas come in varied designs and movable parts, which makes it easier to set up the sofa as per the space you have. You do not need large space and the sectionals can comfortably be placed in smaller spaces.
2. I need more seating or lounging space:
Sectionals not only offer the utility of limited space but provide you with a larger room to have more people to sit down or to spread yourself across it comfortably.
3. I need to break the floor plan and make it open:
Having that bit of open space to wiggle around freely in the room is always the desired option. With their unique designs that facilitate the sectional break up, you can place and spread out the sectional sofa to create more empty space in the room. Even if you have a large open space, the sofa can be broken up and placed around to complement the look.
If your requirement matches up to any of these reasons, you can now proceed to look out for a sectional sofa.
One of the first aspects to learn before you decide upon your choice of the sectional sofa is understanding the various designs.
By developing and understanding the designs in which a sectional sofa can be available, you would be able to better co-relate the space design of your room with the design of the sofa. While there are no specific norms around how the design for sectional sofa needs to be, there are some specific designs that are mostly found in the sectional sofas.
L- Shape: This is one of the most common types of sectional sofas, and as the name suggests it comes in an L- shape. It looks like two different sofas are joined at a right angle. Of the L-shaped sofas, a three cushioned sofa is the most available option than a double cushioned or a 4-cushioned option. You can conveniently push it into a corner or float it in an open space.
Curved: This design might not fit in with small spaces, or in tight corners. However, the design is more like a piece of art in your living space. It looks great within an open space.
Chaise: This sofa has an Ottoman along with it. It basically acts as an extension to an L-Shaped sectional sofa or converts your conventional sofa to an L-shaped sectional sofa.
U-shape: This design would ideally fit in large spaces. The shape accommodates more people and can facilitate a face-face conversation. It is ideal for casual discussion spaces or in office settings.
Sleeper: These go well as an extension of Chaise sectional sofas and add more space to stretch your legs and sleep. It does also offer extra space for sitting.
Modular: Unsure of a particular design and want to regularly move around the furniture to offer different looks? Modular sectional sofas are the best option. Modular sofas offer more flexibility than typical sectional sofas with multiple movable parts.
Related Post: Best convertible couch review
Selecting the right option
With all the different options around, it is important to select the right sectional sofa that fits right with your specific requirements.
Here are a few things that you need to consider before buying a sectional sofa:
1. Understanding Left & Right:
If you are planning to buy a chaise or L-shape sectional sofa, it is important to know "Your rights and lefts". You need to decide whether a right-facing sofa or a left-facing sofa would fit into your space. While this appears to be a simple choice to make, this is one of the major reasons for mistakes in selecting a sofa.
Here's how you make the decision. Imagine that you are standing in front of the sofa facing it. If you want the extension on to the right side, it would be a Right-facing sofa or vice versa.
2. Spend time on homework:
The more prepared you are, the better you perform. This suits well even for selecting a sectional sofa. Spend time in figuring out where the sofa would actually fit into your living space. You can draw up a floor plan and figure out the options where you would want to fit it in. Depending on the available space and the shape of the room, you can freeze the design of the sofa and figure out the shortlist of options you would want to check out.
3. Explore the placement:
You can check out the various options where you can place your sofa. Unlike a conventional sofa that needs to be largely placed on a wall, you can experiment with the sectional sofa. You can pull it upfront and spread it out for a more open look. There are ample designs in the market which can facilitate these choices you make in utilizing the spacing.
4. Check out the corner seat& additional seating:
Most of the U-Shape and L-Shape sofas have the corner seats locked in, which might not give enough space for someone sitting in that spot. In this case, you can go for a more rounded design for the sofa. You can also check other options like Ottoman or additional seating which would go well with the overall sectional sofa.
5. Think about the color scheme:
Sectional sofas come in various colors and materials. Envisage the color scheme that would go well with your space. You can go with a base color that is similar to the color of your room or you can jazz it up a bit by opting for an accent color, or a pattern design that is different from the color of your room. Sectional sofas do take the major space in your living space; hence you can go about building the whole color scheme on the room depending on the color of the sofa.
6. Material:
Different materials are used for sectional sofas. A leather sofa would add more design and attraction to space. A leather sectional sofa is generally on the minds of most buyers. However, going with a fabric-covered sofa would give you more variety in the colors and patterns. There are other materials like polyester, suede, microfiber, etc. The ease of cleaning them and protection against wear and tear are the factors you need to look out for finalizing the material for the sofa.
7. Price:
Determine the budget that you are willing to shell out for the sofa. You can be a bit flexible on the budget while making the purchase but make sure that you have determined the limits for any extension beyond the budget. Higher-end sofas might offer additional features but not necessarily suit your requirements. Hence instead of splashing money on a high-end sofa, determine what you need and set up the budget. You can now go shopping of the sofa keeping these two constants of budget and requirements in mind.
These are a few tips and tricks that you can use while buying a sectional sofa. Make sure that you check out figure out the requirement and check all the options before making the final purchase.
FAQs
Are sectionals better than conventional sofas?
Customization is the key aspect where sectional sofa out-does the conventional ones. You have more feasibility to change the design of the sectional sofa as per the space you have.
What are left-facing and right-facing?
Most of the sectional sofas come in L-shaped or chaise designs. The side on which you want the extended hand determines the choice of Right facing or Left facing. If you want the sofa's longer side to extend on to left it would be a left-hand sofa and vice versa.
Should I choose leather upholstery or fabric?
Each of the options has its own benefits. A sofa with leather upholstery looks more classic and stylish, while fabric would offer you more options in design patterns and colors.
How much space is required for a sectional sofa?
The advantage of a sectional sofa is that you can play around with the space you have. If you have less space, you can configure the sofa to fit in that spacing. In case you have a larger empty space, you can look at opening up the sectional sofa or keep it at the center of the space and add on others.
Wrapping Up
In this article, we have provided you with a list of sectional sofas that we considered to be the best sectional sofas available in the market. Sectional sofas are a great piece of furniture that can be added to your living space, which will not be a mere add-on; but in some cases, the centerpiece of the whole room. We understand the importance of making such a decision and hence have provided you with a buyer's guide that will be helpful for you in making the right choice.
Two things that you must be clear about are the specific requirements and the price range. Work out the options within these two constants. If you aren't grounded with these constants, chances are high that you might end up buying a sectional sofa that has the best of features but might not actually fit into your requirements, with a hole already burnt through your pocket.
Make a prudent decision in buying a sectional sofa, considering all the aspects we highlighted in the article.