Are you on a limited budget or have less space to spare which is forcing you to make a choice between a bed or a sofa? A convertible sofa can be the right solution for you.
A convertible sofa provides you the feasibility of converting the sofa into a bed. Hence, it provides you with the best of both options– a sofa when you intend to sit down and a bed for having a nap.
This type of sofa is an ideal workaround for both your financial as well as space constraints that limit you from not buying both sofa and bed. The design options of convertible sofas have evolved over the years, with multiple options available in the market. Many of the unique designs help you to gain the maximum utility of the available space.
A brief on picking a best convertible sofa
To ensure that a convertible sofa satisfies the need for a sofa as well as a bed, different materials are used for the structure as well as cushioning. Another aspect that is important in a convertible sofa is the mechanism used for the conversion.
With all these variables to consider while selecting a convertible sofa, the task can become a bit tiring. It is important that any purchase that you finalize upon is in line with your specific requirements and is durable for a longer period of time. There are chances that the product which you consider to be the better option might not actually be the right choice.
In order to save you all the trouble and to help you to choose a suitable convertible sofa, we have explored the various options available in the market and have come with our choice of the best comfortable sofa options.
We have provided our list of top 10 convertible sofas based on a detailed study of the options available in the market. This article provides a detailed review of these 10 convertible sofas along with the best features as well as drawbacks. To further help you with choosing the best option, we have also provided a buyer's guide.
Table of 10 Top-rated Convertible Sofa
Image

Product

Features

Price

Honbay L-Shaped

* Linen
* 78.5 x 35 x 30.5(inches)
* 104.3 lbs.

Linen Fabric Tufted

* Linen
* 75.5 X 28.25 x 33 (inches)
* 97lbs.

Alex's New sofa

* Faux Leather
* 54 x 30.25 x 36 (inches)
* N/A

Loungie Micro-Suede

* Microsuede
* 46.1 x 29.1 x 8.7 (inches)
* 16.53 lbs

Giantex 5-position

* Ultrasuede
* 83 X 28.3 X 4.5 (inches)
* 16.8 lbs.

LUCID 8 Inch Foam

* Linen
* 41 x 16 x 16 (inches)
* 40 lbs.

Novogratz Palm Springs

* Linen
* 34 x 71.5 x 32 (inches)
* 93 lbs.

DHP Studio Futon

* Faux leather
* 34.5 x 69.5 x 31 (inches)
* 86.9 lbs.

Novogratz Leyla

* Fabric
* 56 x 30 x 32 (inches)
* 59 lbs.

NHI 73022-40GY

* Fabric
* 80 x 30 x 33 (inches)
* 109 lbs.
Best Convertible Sofas 2023
We have researched and tested the various convertible sofas and have come up with our observations regarding the top 10 best convertible sofas. Check out our reviews below in regards to these best options before you make a choice to buy one. We have considered different aspects like- quality of the product, price, size, mechanism, etc. while writing our reviews.
1. Honbay L-Shaped Convertible Sofa Compact option for limited spaces
The sofa is small and compact in size, which would be perfect for any small-sized living space or an apartment. The L shaped design and the structure provides the feasibility of tucking the sofa into a corner.
Firm Cushioning
The cushions provided are nice and firm. They aren't too cushy that you would go deep while sitting on them; and at the same time, are not hard for uncomfortable seating. Instead, the cushions are firm and are comfortable to sit for a longer period of time. Over constant usage, the seats could soften down adding more comfort while being seated.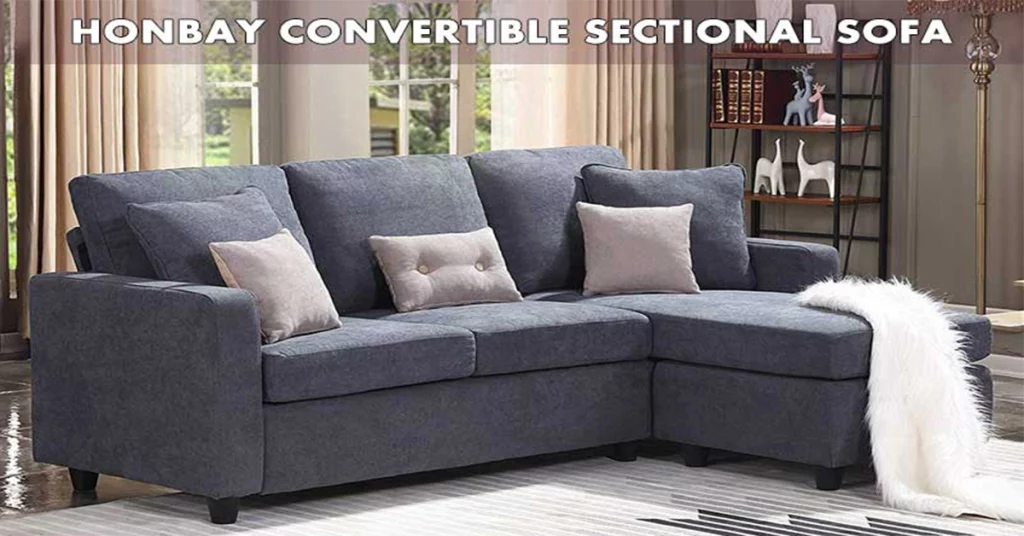 Reversible Section
The sofa has a reversible section, which can be laid out as a horizontal strip when you intend to stretch your legs and sleep. If you aren't fine with stretching it out, you can use the chaise lounge sectional part in any pattern that you want.
Quality Upholstery
The fabric used to make the upholstery is Linen. This not only provides a rich look but is also highly durable. It is easier to maintain, and regular convenient dusting ensures that the sofa remains neat and tidy.
Value for Money
Easy to assemble
Flexible sectional design
Light weight for easy movement.
Not enough space for more than one person to lie down
Bottom line
This small convertible sofa is one of the best options available if you are looking for a decent budget convertible option for a small space. It might not be suited if you need to share it with others, but would be quite a comfortable option to lie down for an individual.
Read Also: Do you Know How to Sit On Couch With Good Posture?
2. Best Convertible Linen Fabric Tufted Flexible multi-optional sofa bed
The convertible sofa takes the idea of flexibility to the next level. While it is a great sofa to start off with, you can easily convert it into a bed by simply reclining the back. The back is divided at the half, which would mean that you can recline half of the sofa as a bed and keep the other back part up, to continue sitting. So, in case you have two people using the sofa, and one wants to lie down while the other wants to continue sitting – this is the best option.
Comfort cushioning
The filling in the cushion makes it plush and helps you to sit comfortably. The padding does not allow you to sink into it; and at the same time, it offers greater comfort in sitting down.
Durable upholstery
The upholstery of the convertible sofa is made up of linen. Furthermore, the design is a tufted design that saves you from the plain look but also adds comfort while lying on it. The linen is soft and supple
Strong wooden frame
Metal legs
Unique design
Lightweight
Easy assembly options
Multiple color options
Legs get imbalanced after a period of time.
Bottom line
This is one of the lesser-priced convertible couch options available in the market. If the budget is one of the main factors influencing your choice, this is one of the better options that you can choose.
3. Alex's New Black Comfortable Sofa option for two
This convertible sofa can comfortably seat as well as act as a bed for two individuals. The overall cushioning and the space provided is convenient for two people to sit together. When you think of lying down, you can simply pull out the bed extension, and the sofa converts into a comfortable and cozy bed for two.
Faux leather upholstery
The upholstery is made up of faux leather. However, it does give a good leather feel and look. The material is soft and comfortable to sit for a longer duration.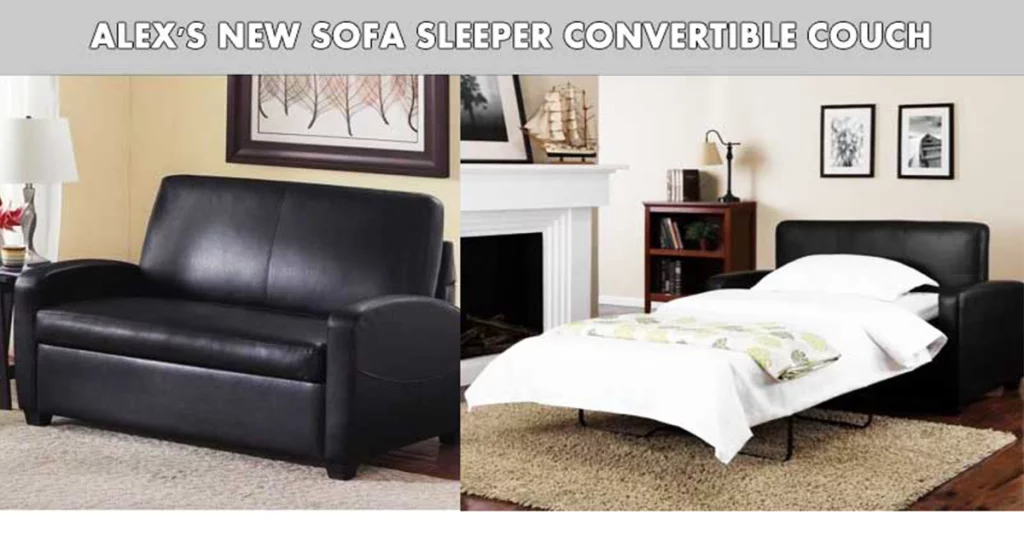 Dual cushioning
The seating cushion is thickly padded, which provides stability and comfort when you sit on it. While the backrest has soft cushioning, it gives you a plushy feeling when you relax your back or when you actually lie own.
Easy to clean and maintain
The upholstery material is stain-free. Any accidental spills can be easily wiped off. Furthermore, the cleaning is also very easy with this convertible sofa and does not require heavy maintenance.
Strong frame to support two people
Strong legs
An easy mechanism for conversion into bed and back into a sofa
Space utility design
Simple assembly
The quality of the mattress is poor
Bottom line
A sofa is a comfortable option for two people. With its easy design, comfortable cushion, and enough space, it is one of the best twin convertible sofas you can choose from. While the quality of the mattresses can be better, the benefit of having a couch that comfortably seats two would outweigh it. So, if having enough space for two people to hang out is a priority, then this ought to be the best option for you to consider.
4. Loungie Micro-Suede 5-Position Flexible multi-position adjustable sofa bed
The Sofa-bed offers multiple positions for you to relax. You can convert the back support into multiple angles, right from an upright position for sitting to a total flat-out position to sleep. There are three intermediate positions in between that you can use to relax. The mechanism that facilitates these multiple positions is efficient as well as flexible. The steel frame is made up of sturdy and strong material that can withstand the weight at all angles.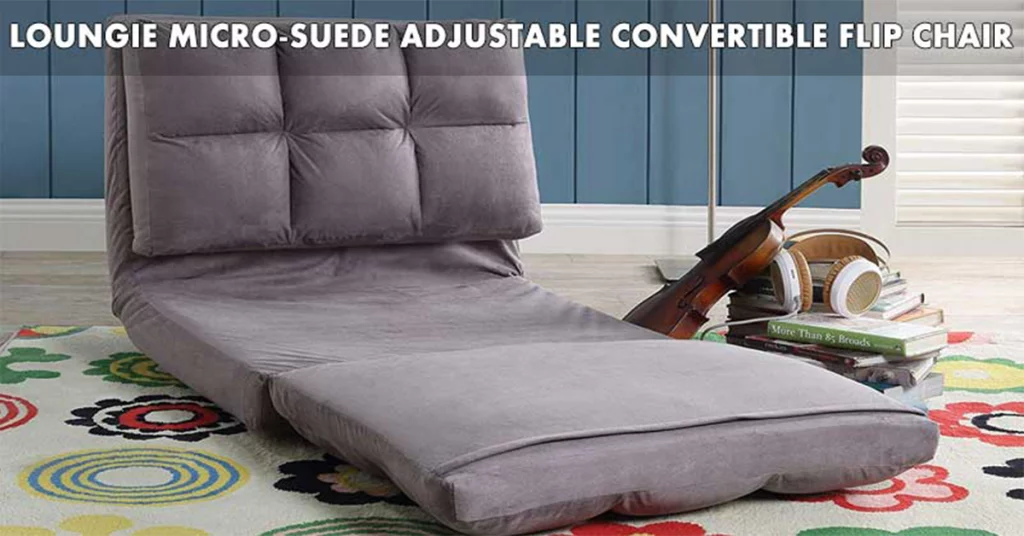 Comfort Micro suede
The upholstery of the material is made up of microsuede leather and is very soft and comfortable to relax on. You can sit on this for a longer duration without any effect on the skin or have any other discomfort.
Foam Cushion
This cushion is filled with high-density foam of good quality. This provides a comfortable plushy feel to relax on the sofa. The density of the foam ensures that there is enough spring in the cushion to absorb the weight and to cushion the body comfortably. It does not pull you in, which makes it easy to get out of the sofa. Even without the legs, you do not need any additional leverage to get out of the sofa.
Durable frame
The frame which supports the sofa is made up of steel. It is sturdy and serves for a longer period of time. Even the mechanism of shifting into multiple positions is also comfortable, which allows for very less pressure being applied on the frame, resulting in a long-lasting option.
Easy to maintain
Occupies less space
Contemporary design to fit in modern living space
Available in multiple colors
Lightweight
Smaller than for an average size person to use.
Bottom line
This convertible sofa offers a very unique design, not seen in many other convertible options. It does not come with any legs and is something you can use to comfortably relax on the floor. The design makes it an easy fit in most of the spaces. This modern convertible sofa is an ideal fit for your contemporary designed rooms, whether it is within the living room or in the guest room.
Read Also: 10 Top-rated Sectional Sofa
5. Ergonomically fit multiple Giantex 5-position sofa bed
The modern designed convertible bed is a multiple position sofa-bed that is ergonomically designed to provide comfort and not cause back issues while sitting on the sofa. You can place the couch in five different seating positions. Each of these positions is designed in such a way to ensure that there is very little pressure that is applied on the back. This makes for very comfortable seating in any of the positions.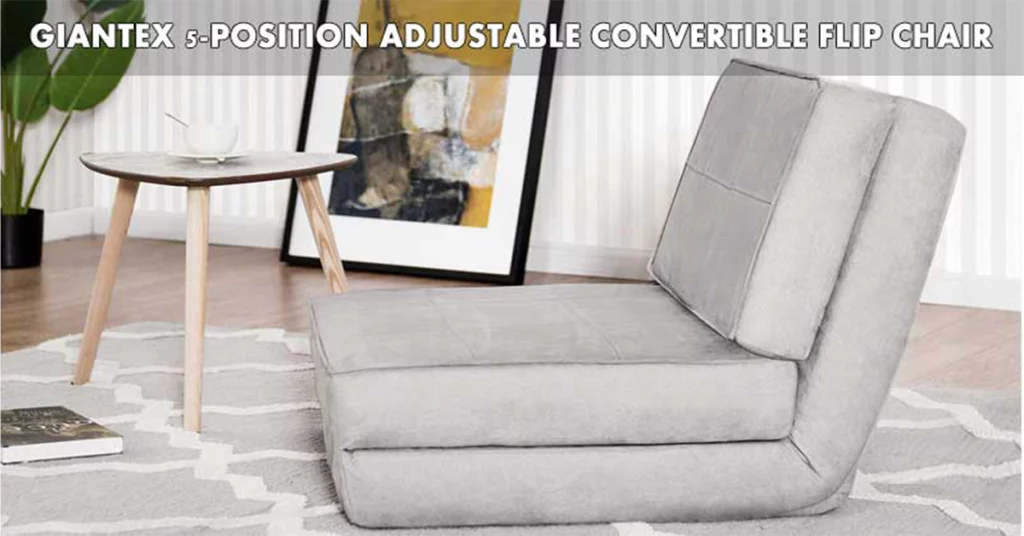 Stable and safe
The overall build and the design ensure that the convertible sofa remains very stable and safe. There are no-slip feet provided at the bottom of the sofa, which ensures that the sofa stays in its place and does not slide into different positions.
Easy Transportation
It is very easy to move around the sofa. It is very light in weight and a comfortable option if you are someone who travels around places and wants a comfortable and easy to move around option. This is ideally suited for college students who have to change around the dormitories.
Exceptional mechanism
The design and the mechanism is very effective as well as easy to change into different positions. There is not much effort involved in changing the positions, and anyone would be able to shift the positions of the sofa very comfortably.
Sturdy frame for durability
Lightweight
Soft upholstery
Comfortable cushions
No need for assembling
Bit expensive
Dirt accumulates easily
Bottom line
The ergonomic design offers greater comfort with minimal pressure on the back. It is one of the most comfortable convertible sofas available in the market.
6. Contemporary designed multi-optional LUCID 8 Inch Foam Sofa
The sofa offers a unique contemporary design that can be converted into multiple options. It is a convertible sofa in the true sense as it can be converted into– kids sofa, guest mattress, or a lounge to relax. The convertible options are easy in the sofa, and it can be converted into any of the mentioned forms. Further, the design of the sofa has a contemporary look to it.
The look would fit into most of the modern living spaces. Whether you want to match it up with other furniture at home or use it as an individual piece of furniture in the guest room, the convertible sofa would stand unique with its design.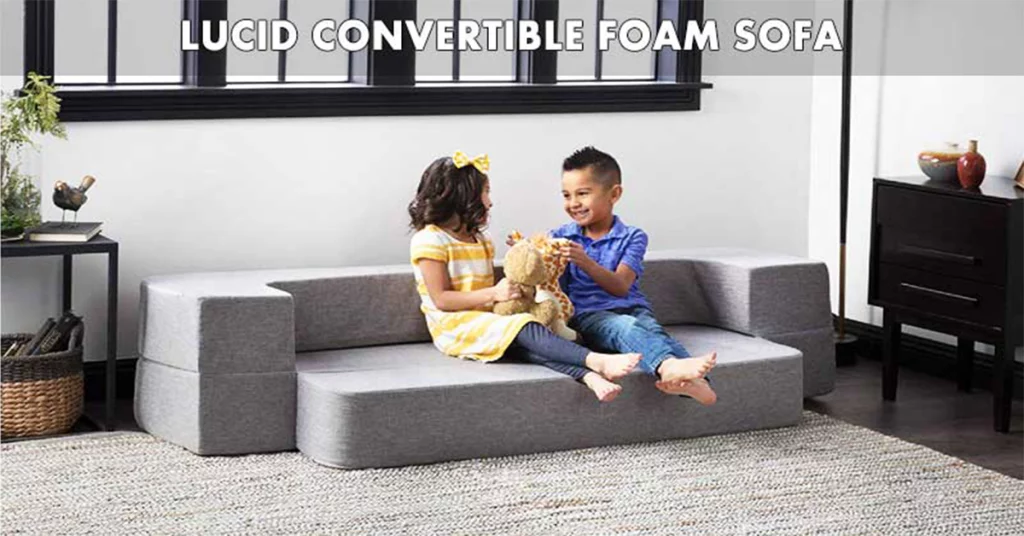 Durable and stylish cover
The cover of the sofa is made with durable Linen fabric. It does not allow for any creases or wrinkles to form, retaining the stylish look of the couch. Furthermore, it's quite convenient to remove the stains from the sofa easily. Even when you are using the sofa in any of its various forms, the linen cover retains its shape and ensures that there are no folds.
High-quality filling:
The cushion is filled with material that is of the highest quality and is certified. This ensures that you have comfort while being seated or while lying down. The filling is further safe for the children as well and it will not cause any harm for them when they jump over it. The padding provides extra comfort while you are watching a movie or TV for a longer period of time as well as can have family and friends to be comfortable seated long with you.
Easy storage
While it is a great option to have as a piece of furniture, in any case, you intend to move it away – there is no need to worry about storage. You can easily fold up the whole sofa into a comfortable storage option that can be tucked away into your storage space.
High quality built
Convenient design
Certified mattress
Safe for children
Less grip on the floor and tends to slide
Bottom line
The design of the sofa is unique, and it reflects a contemporary style. If you are looking for a stylish option which would blend in well with the overall look, it is a good convertible sofa to opt for. However, one of the issues with the sofa is its tendency to slide over surfaces. So if you already have a rugged surface on the flooring, you can opt for this option.
7. Novogratz Palm Springs Multi-functional sofa for limited spaces
This convertible sofa is an ideal option for small spaces. The simple design works well for a sofa and can be easily converted into a bed or a lounge. The design has a blend of a mid-century and modern look to it. The structure resembles a simple– no-frills look with a seating space firmly placed on four legs. However, the texture and color of the upholstery give it a modern twist. This will suit well as a stand-alone item in your guest room or in your private lounge space, where you can simply put this up and use both as a sofa or a space to lie down.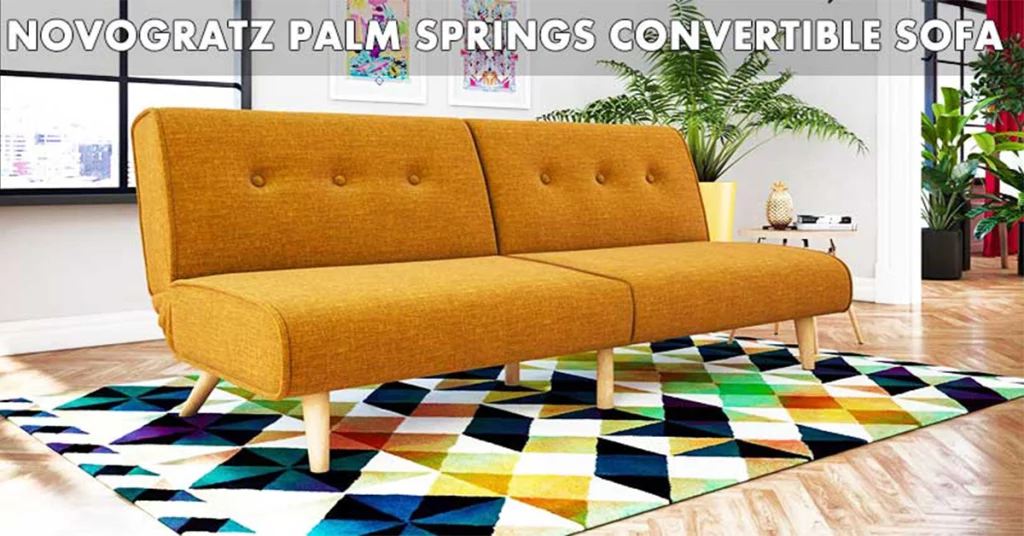 Quality Upholstery
The upholstery of the convertible sofa is made up of quality linen. It also has a tufted back, which not only gives it a great look but also provides a good feeling when you sit upon it. The mustard color adds uniqueness and a bold look to the sofa. You can match it up in modern living spaces where the sofa would stand out with its unique look.
Sturdy and stable
The sofa is hoisted upon a sturdy wooden frame which is built to last for a longer period of time. It would be able to support considerable weight for a durable period of time. The whole sofa is supported on 4 wooden tapered legs. The wooden legs add great stability to the sofa, especially when converted into a sleeping option. The tapered design of the leg blends in well with the overall look of the sofa.
Economical and fits in the budget
Easy to maintain
Easy to convert
Simple design and mechanism
Easy to move around
The springs can hurt the back
Slides on the floor
Bottom line
The convertible sofa offers value for the money paid. It is not the most comfortable option to sit down for long hours but is very effective as a showpiece that you can keep at a corner of the room, adding in style as well as a seating option. However, it is one of the more stable convertibles with its strong wooden legs.
Read Also: Top 10 Reviews of Best Loveseats
8. Comfortable multiple DHP Studio Convertible Futon Couch
The back of this couch has a split, which provides the feasibility of reclining half of the back as a bed and keep the other half intact. Similarly, you can try out other options with the design. This provides choice to have both a sitting option as well as a sleeping option for you and another individual using the couch.
Faux leather upholstery
The upholstery is made up of faux leather. This provides an elegant and rich look to the couch. Apart from the looks, the faux leather is durable and can be easily maintained. Any spills on the surface can be easily wiped off and allow no stains on the surface. Any dust can be easily dusted off from the surface, and minimal regular dusting should help to keep the material durable for a longer period of time.
Blends well with the surroundings
While the couch by itself is a good piece of furniture, it can be paired up well with others like an ottoman or a chair to complete the look. The design is simple and can be placed in most of the spaces without affecting the overall look of the living space. The faux leather finish makes the couch to blend in well.
Easy to convert
Assembling the coach is effortless
Easy maintenance
Fits well in small and compact spaces
Chrome legs
Bottom line
If you are looking for a microfiber convertible sofa, this is an option you can check out. The cushion does not provide the most comfortable option to sit; but with the price range, it is a good comfortable sofa that students and others seeking for a durable option at a lesser price range can look out for. You can use a mattress or other soft cushion over the sofa to overcome any hardness you might be uncomfortable with.
9. Novogratz Leyla Comfortable convertor for small spaces
This convertible sofa is ideally suited for small spaces. The sofa occupies less space and can comfortably seat two people. However, if you thinking of lying down, you just need to pull down the armrests and it converts into a bed. You have the flexibility of either pulling down one or both the armrests, depending on the space you would need. The design is simple without any fuss. You also have the option of pulling down the armrests at different angles, providing you with more options to lie down and relax.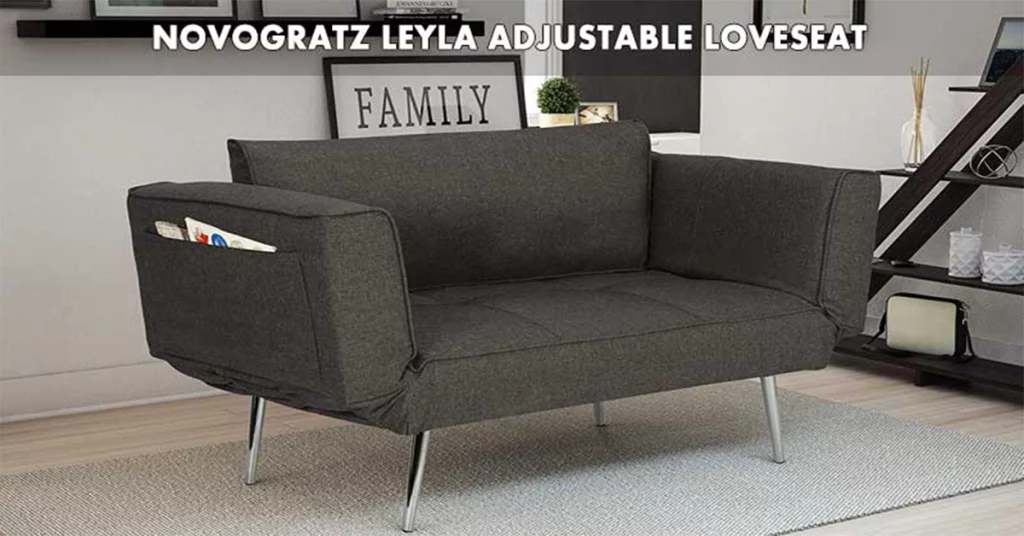 Storage
The armrests have additional compartments where you can store items like magazines or newspapers. This would be an ideal option for readers, who can place the book or a magazine in the compartment when you intend to sleep and can pick it back from the same. In line with the theme of the couch, even the compartments are simplistically designed for easy access.
Easy assembly
The convertible sofa has easy assembly options and can be converted within seconds. There is no additional effort required to assemble the piece as in the case of many other converters. The couch comfortably rests on metallic legs which are easy to join to the main body of the coach. The assembly points are designed well not to create any additional effort while piecing the sofa together.
Simplistic design
Available in multiple color options
Strong support legs
Easy to move around
Lightweight
Durable fabric
Back cushion is not comfortable.
Bottom line
The cushion is ideally suited for a dorm or a condo, where there is less space. Converting it from a couch to a bed is also quite easy and requires very little effort. This convertible sofa with a storage facility is ideal if you want to put it up in a space where you spend more time reading or sit down with some on to watch tv. With the price range, it offers value on the money but would not be an ideal option if sleeping on it is the main purpose.
10. Cushioned comfort NHI Express 73022-40GY Alexandra for small spaces
The convertible sofa has a sectional sofa design, where it comes with a sectional part that can be doubled up and used as a bed for sleeping. It has comfortable cushions for both seating space as well as for the backrest. The overall size of the cushion is small than most of the sectional sofas and is an ideal option to be placed in smaller spaces.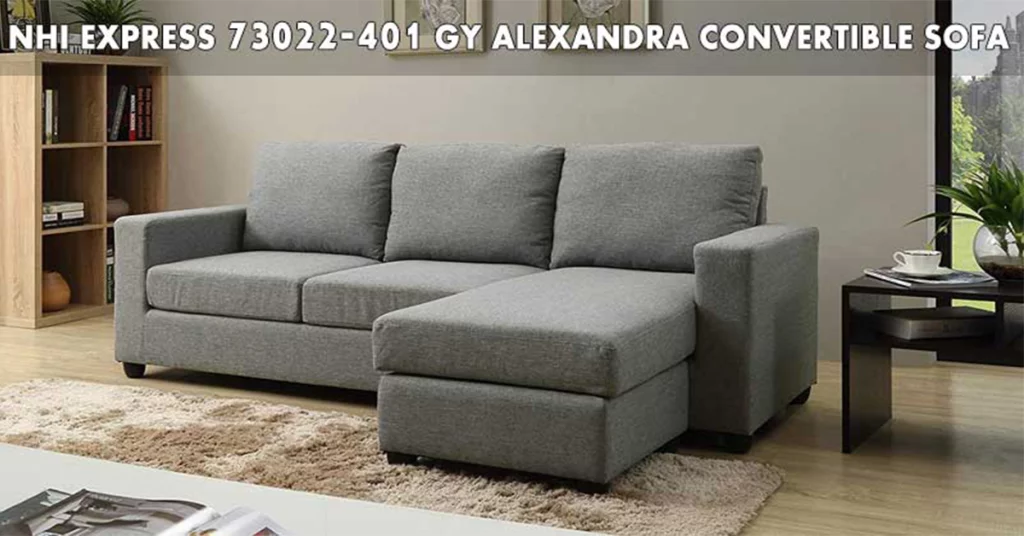 Multi-function furniture option
You can use this either purely as a sectional sofa that can be put up in a living or office space, or you can consider using it as a convertible sofa that doubles up as a bed. In either case, this convertible sofa would be an ideal fit.
Modern look
The design of the sofa has a simple, yet modern look to it. It is a sectional type L-shaped sofa, with a long end on one side. This site can be conveniently used to stretch legs and lie down. You can use this couch simultaneously for both- to sit down as well as to sleep. The fabric used is of good quality and the grey tone gives a modern hue to the sofa. It would be able to blend in into most of the modern living spaces.
Small and compact
Easy to move around
Durable fabric
Sturdy structure
Does not have a proper cushion
Bottom line
The sofa is very small and is ideal more for a dorm than a regular living space. It can double up as a sleeper but cannot be used for sleeping for longer hours. However, the seating is comfortable and can be used for comfortable seating of 2-3 persons. It ideally fits a small space within the budget purchase.
Related Post: Best Leather Sofas Buying Guide
Buying guide to select the best sectional sofas in 2023
We have provided the details of what we consider to be the best convertible sofa options available in the market. However, we do understand that our choice might not be in line with your specific interests and limitations. Furthermore, it is always a good option to test and seek any purchase based on your experience, with our suggestive options working as a reference for you.
We have gone a step further and compiled a buyers' guide for your reference. The buyer's guide would provide you with the details on the aspects which you need to know and the considerations which you need to have before you finalize purchasing a convertible sofa.
Even before you are starting on checking the features, one thing you need to remember is that any convertible sofa is primarily a sofa, and then a bed. Hence the element of using it as a sofa needs to take precedence than the option of having a bed. So any features which you look forward to, need to first satisfy the requisites of a sofa and then the option of using it as a bed.
With this important aspect in mind, let us look at the various aspects of a convertible sofa which you need to know before buying one.
Style
Most of the convertible sofas can be categorized into three different styles. While there are no strict guidelines that restrict the design of the sofa, the three most popular styles are:
Futon
Sleeper Chair
Pullout Couch
Futon: There are the most available and the simplest convertible sofas. They have a simple design where a couch or mattress is placed over a metal frame. Laying out the cushion flat will make it a bed while folding it up would convert it into a seating option. These are a popular choice among students and others who have less space to use and need an option that is easy to shift. They have a casual look and the compatibility with the living space needs to be looked in.
Sleeper Chair: A sleeper chair is an ideal option if you have limited guests coming over. The sleeper chair can be folded out to form a bed. There are various types of sleeper chairs available of varying sizes and materials used for cushioning. However, the logic of all the sleeper chairs is to have a folded chair that can be unfolded to form a bed.
Pullout Couch: This is one of the traditional designs and tends to be comparatively bigger than the other two styles. It looks like a traditional sofa but converts into a bed; thanks to the pullover options it has. The bed converts from a sofa to a typical queen size bed. There are various sub-styles that you can find in these types of coaches– sectional sofas, love seats, etc. When not used as a bed, they can be used as a three-seater sofa option.
Mattress
The choice of material used for a mattress also plays a key role in determining the choice of a convertible sofa. A quality mattress is not just about how it looks from the outside but more importantly, it is the quality of material used inside the sofa. The material options used for a mattress vary depending upon the style of the sofa.
Foam: They are the most popular material used in mattresses these days. Both the Futons as well as the sofa beds have this option of foam as the filling for the mattress. The mattresses used in a convertible sofa are largely 2-3 inches in thickness, hence it is important to use high-quality material so that you would not feel the frame when sleeping on the mattress. A gel foam or memory foam is an ideal option for mattresses used in convertible sofas.
Cotton filling: This would be an ideal option when the size of the mattress is about 8 inches in the depth. Cotton or in few cases polyester is filled in these mattresses. They are mostly used for futon-style cushions.
Innerspring: They have been notorious options for sofa beds. However, with the advancement in technology in manufacturing techniques, mattresses are now more reliable. The current day inner-spring mattresses have additional coils and sturdier material which will shield any effects from the coils. However, the innerspring options are still not an ideal option because of the noise they tend to create while using them, especially after a period of time.
Air -over-Coil: This is one of the most advanced technologies being used in mattresses. They have the innerspring action at the bottom, with an air bed placed on top of it. These types of mattresses are receiving generally good reviews from users and are now being more used in making convertible mattresses. The best advantage of this type of mattress is that they are double the thickness when the top is inflated and at the same time can be simple folded by deflating the airbed.
Functionality
At the end of the day, functionality determines the best choice of any convertible sofa. An important aspect that needs to be checked is that folding and unfolding should be easy and convenient. In general, there are three types of different functionalities that are used in convertible sofas.
Pullout: This type of functionality has a pullout option where the mattress would be pulled out from under the sofa. To test the functionality, see if you can pull it out with a single hand. An effective mechanism should ensure that the mattress is pulled out in one hand.
Click-Clack: This mechanism is mostly used in futon-style convertible sofa sets. It follows a simplistic method where you pull the futon forward until it clicks for a seating posture and you can lay it flat to make it a bed option.
Power open: This option is ideal for anyone who has a back problem. At the simple push of a button, the convertible sofa converts into a bed and back into a sofa.
For all these different functionalities, it is advisable to seek out an option to test the working and then decide on buying the convertible sofa.
Related Post: The Best Sofa for Your Back Support – Relieve the back Pain
Pricing
The price of a convertible sofa is influenced by various factors:
Size: The price of the sofa is directly proportional to the size of the standard coach. Hence look out for a size that is needed for you and based on that determines the choice of the convertible sofa.
Upholstery: Leather, velvet, and customized fabric are a few of the costlier options used for making a luxury convertible sofa and this would directly increase the price. Lesser priced options include cotton, linen, etc.
Opening Mechanism: The functionality used also has an influence on the price of the convertible sofa. Manual functionality is less costly than automated high-tech options.
The material of the mattress: What goes inside the mattress influences the price. Air-over coil mattress is a new technology as we have discussed earlier and is a higher-priced option. Memory foam of the highest quality is also considered to be costlier when compared to innerspring or cotton/polyester fill.
Before thinking of making the final decision to buy a convertible sofa, have an internal check of these aspects:
Size: Determine the size which you would be needing. Ensure that you do have some moving space left after placing the sofa.
Usage: Decide on how you would be using it. Depending on the number of people in your place and the number of visitors, determine the choice of a convertible sofa set.
Budget: Budget plays a key role in the choice of the sofa. More than the features, your budget and the utility within the budget will be determining the choice of the convertible sofa.
FAQs
1) Are convertible sofas a comfortable option?
It would depend on the choice of sofa you make. There are many comfortable options available in the market. Based on the budget and the purpose, you can make a choice that would provide you with comfort.
2) What is the best type of mattress for convertible sofas?
There are various materials that are used to make mattresses. The best types of mattresses are the air-over-coil and the memory foam ones.
3) What is the best convertible sofa bed?
Any convertible sofa that meets your requirement would be the best option for you. If you are looking to save on space and have fewer people using it, you can opt for a futon or a sleeper chair. If you want a larger one and have the budget and space for it – a pullout coach would be the best option.
4) How to clean a convertible sofa?
Regular and normal cleaning is enough for most of the sofas. Ensure that you are doing a vacuum cleaning on a regular basis and are proactive in the cleaning of any stains due to spillovers.
5) Do we develop back problems using a convertible sofa?
A quality sofa with a good cushion mattress like memory foam or an air-over-coil mattress would help to reduce the risk of any backaches.
Wrapping Up
The list that we have provided for the best convertible sofas of 2023 is based on thorough research and review carried on by us. We have taken into consideration many aspects like quality, comfort, budget, etc. to suggest different options that you find to be an ideal choice for you.
Further, in order for you to know how to make the right choice, we have developed a buyer's guide which you can use to make the right choice.
An important aspect which you need to consider is that your requirement and your budget need to be the main considerations for you before making any choice. All the other aspects that we have mentioned would be centered on this initial premise.