Sectional sofas are a great choice as a sitting arrangement at home, but every layout is not for every home. You'll have to be careful while choosing the layout. Because if it's wrong, it can be a disaster. Confused? We've got some sectional sofa layout ideas in this article that will help you out.
Nothing feels more comforting like cuddling yourself under a blanket sectional sofa that allows you to aim at the TV while lying down. This sofa has enough space to let you and your family sit back and get entertained with a perfect view.
The use of a sectional sofa is worth considering if you are hosting a crowd or have a large family. It allows you and your family to enjoy a more laid-back relaxation in the living room.
Sectionals are known to provide maximum comfort, warmth, and softness in modern apartment space. This is irrespective of your home spacing; large or small, or slick and contemporary.
There are dizzying numbers of selections when it comes to sectional sofas; this means you stand a chance to get a precise sofa that will suit your home. Be it a normal sectional or a reclining sectional, the segment of a sectional sofa has a significant influence on its layout. Most sectional sofas are manufactured to have a precise shape, which can take the form of a Linear, U-shape, L-shape, or semicircular.
Below are some sectional sofa layout ideas that can serve a better match to your living room shape and size. Read further to know how to get a head start.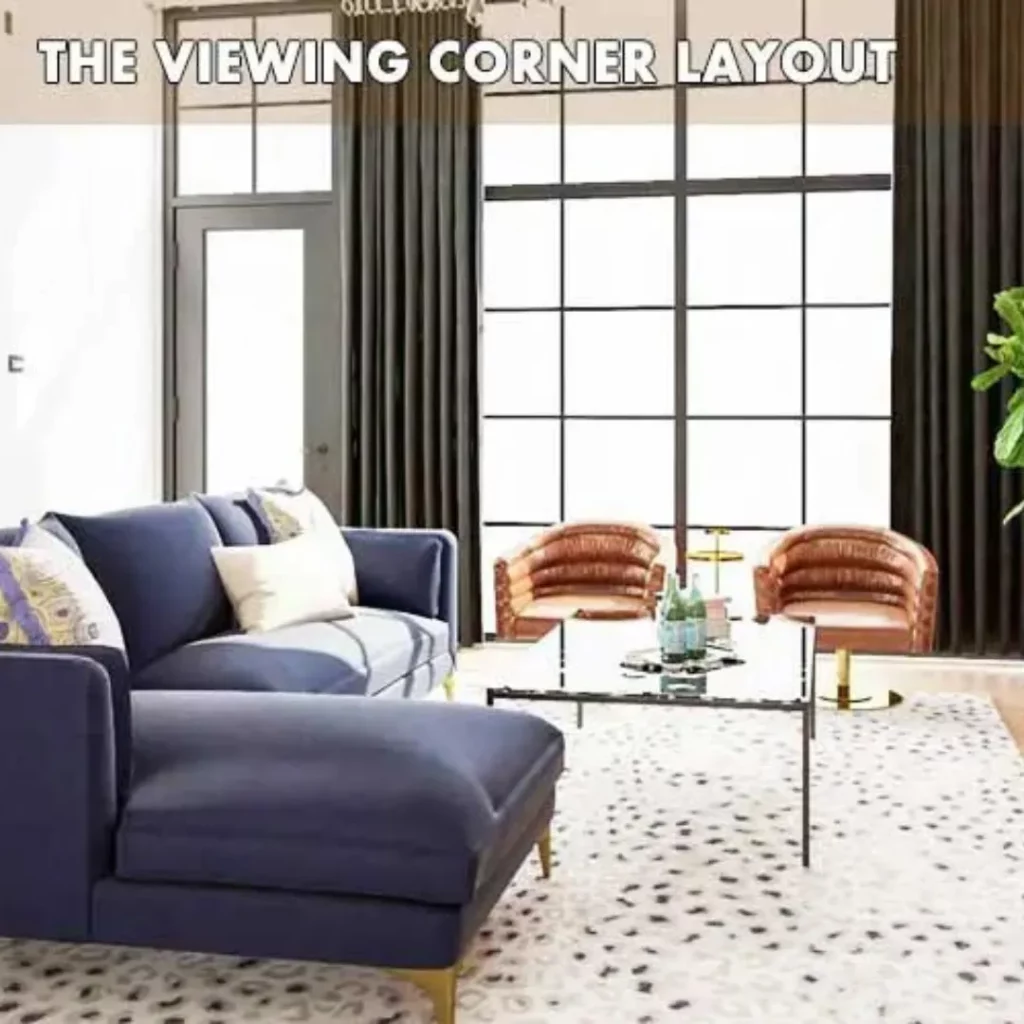 1. The Viewing Corner Layout
This layout allows the sectional to convert spaces into the TV lounge area. The sectional sofa plan also helps to define convenient areas in the living rooms where you can lounge out. These layout ideas allow sectionals to define the seating areas from the space within your room; as a result, making it look like a room within a room.

Pros of the Viewing Corner Layout

This sectional sofa layout format allows and supports a lot of lighting; which enables you to set the mood needed.
2.The Conversation Ring Layout
For a sectional sofa with extra chairs spread all around. Space feels more decorated is perfect for entertainment and conversation. This sectional layout also takes away focus from the TV as the main feature of the room. This sectional arrangement creates a sizable walking space in the seating area.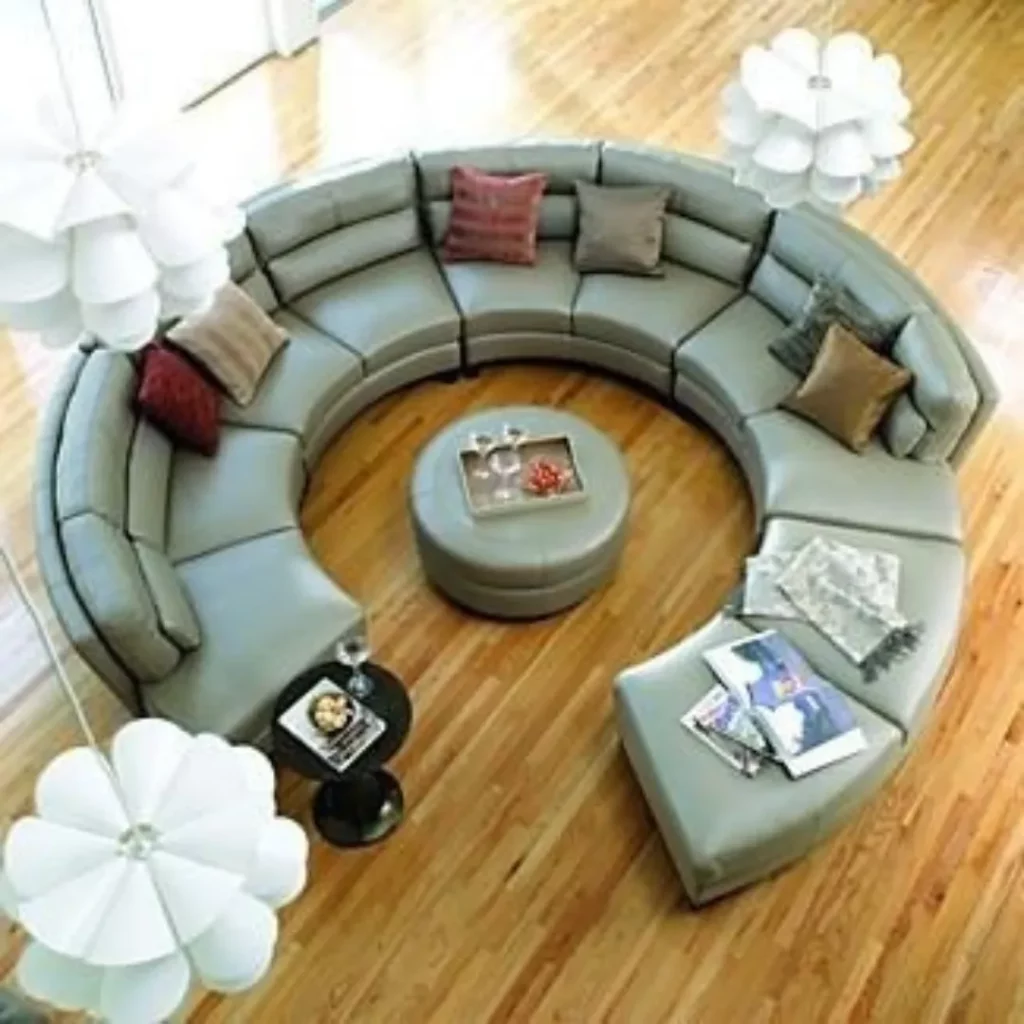 3.L-shape layout
This sectional takes an L shape as its name indicates. This shape is formed merging two sectionals to form a right angle. It is the most versatile form of sectional layout; it can suit into corners or float in the middle of the living room. If you have a formal lifestyle and accommodate guests dressed in suits and formal wears, then the L is not an ideal choice.

This layout is suitable in an informal home setting. Although, it depends so much on the room size; an L shape layout in a small room will appear elegant and sophisticated. Standard L-shape sectional sofas are made of two pieces; these are; a sofa and chaise, or a sofa and a love seat. The sectional extend either to the left –left arm facing (LAF) or the right direction –right arm facing (RAF). Its sections often have five to six seats.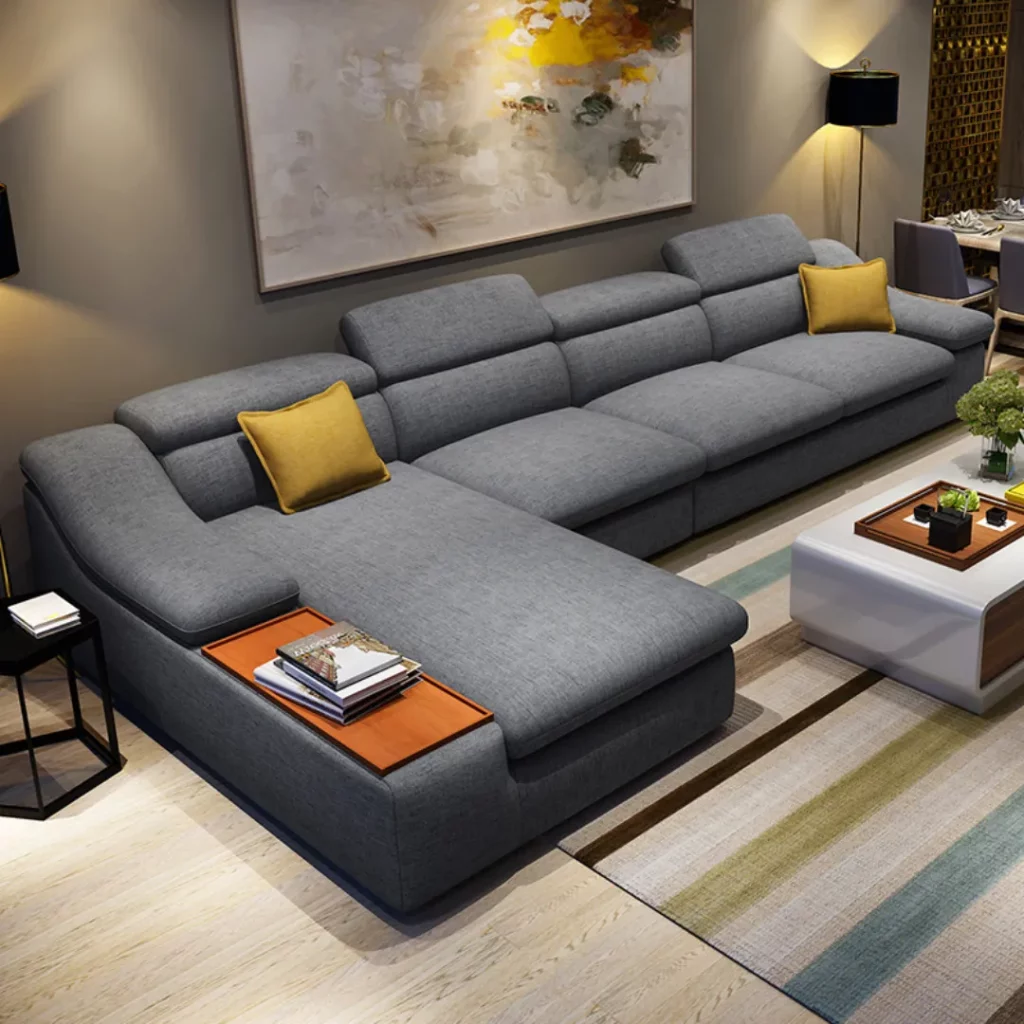 Pros of L-shape sectional layout
Suitable for small rooms: the L-shape is ideal for small rooms and can accommodate more people.
Create extra space: the sofa can be attached to the corner of the living room, creating an extra space for more furniture.

Cons of L-shape sectional layout
Not flexible: it is difficult to rearrange, when changing the layout of your room.
4.U-shape layout
This sectional sofa can take the form of a deep or shallow U-shape. The U-shape layout is perfect for large spaces. This sectional arrangement takes the shape of a U; sectional sofas attach to form the U shape. This sofa is an ideal layout that fosters intimate conversation.

This seating layout is advisable to form a spacious apartment, or if you desire to get much seating space out of your sectionals. This serves in homes with more than three individuals; allowing everyone to sit on it, providing enough space for each one of them to spread out.

This layout can allow you to seat a large number of guests and allows everyone to have a perfect view on the TV screen. Provide suitable comfort for each person seated. Although this can be difficult to arrange due to their large sizes and shape. U-shape sectional sofas are designed using three sofa sized pieces, which form a ninety degrees angle when attached.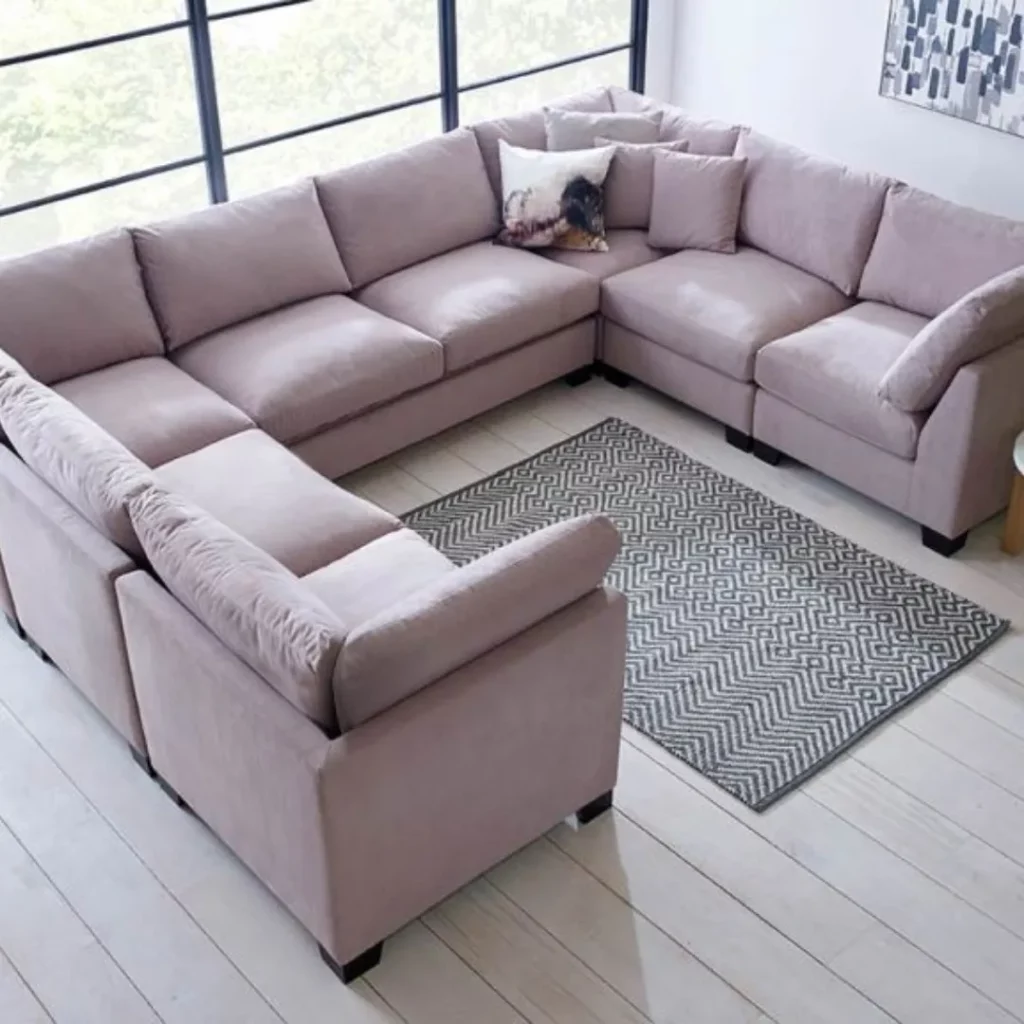 Pros of the U-shape layout
Perfect for regular entertainers: if you host crowd, the U-shape layout will be an ideal suit for you.
Suitable for the family: the U-shape sectional couches are cozy enough due to its perfect lumber that suits the back.

Cons of the U-shape layout
5.Circular Sectional sofa layout
The layout position promotes a friendly atmosphere. This is a perfect layout to unite friends and family members in a chatty moment and intense lounge. It occupies a large space and can only look perfect in a large spacious living room.

Pros of the Circular Sectional Sofa
Saves money: when compared to purchasing a whole living room furniture, the price of a circular sofa is cheaper.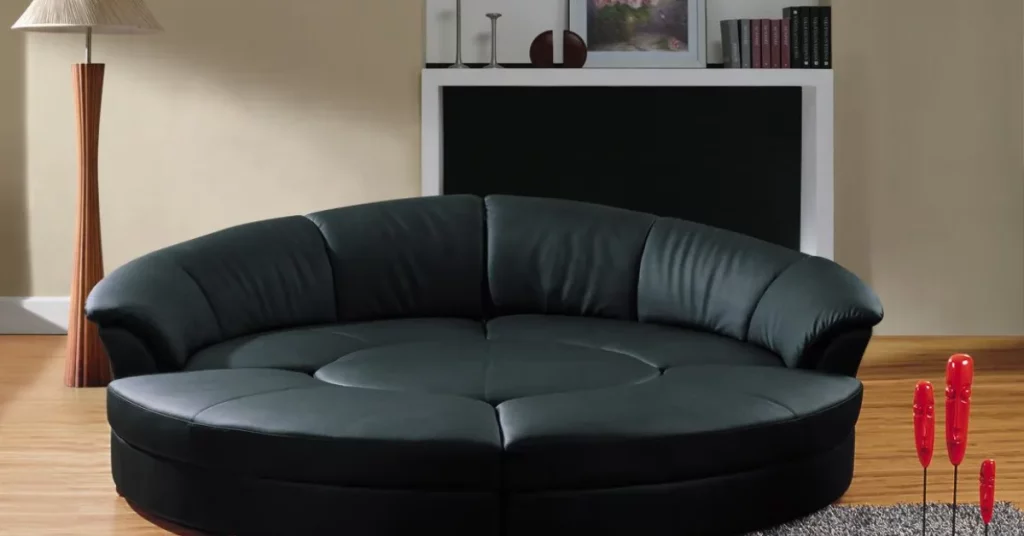 Cons of the Circular Sectional Sofa
Challenge to move: moving this layout to a new home can be challenging, to find a sizable apartment might sometimes be difficult.
6.Semicircular Sofa Layout
This sofa layout is vital in a home and shows more about an individual's preference. Its customized variety will want to make you change your mind within seconds. This layout provides a maximum sitting comfort and also allows you to fill up spaces in the living room.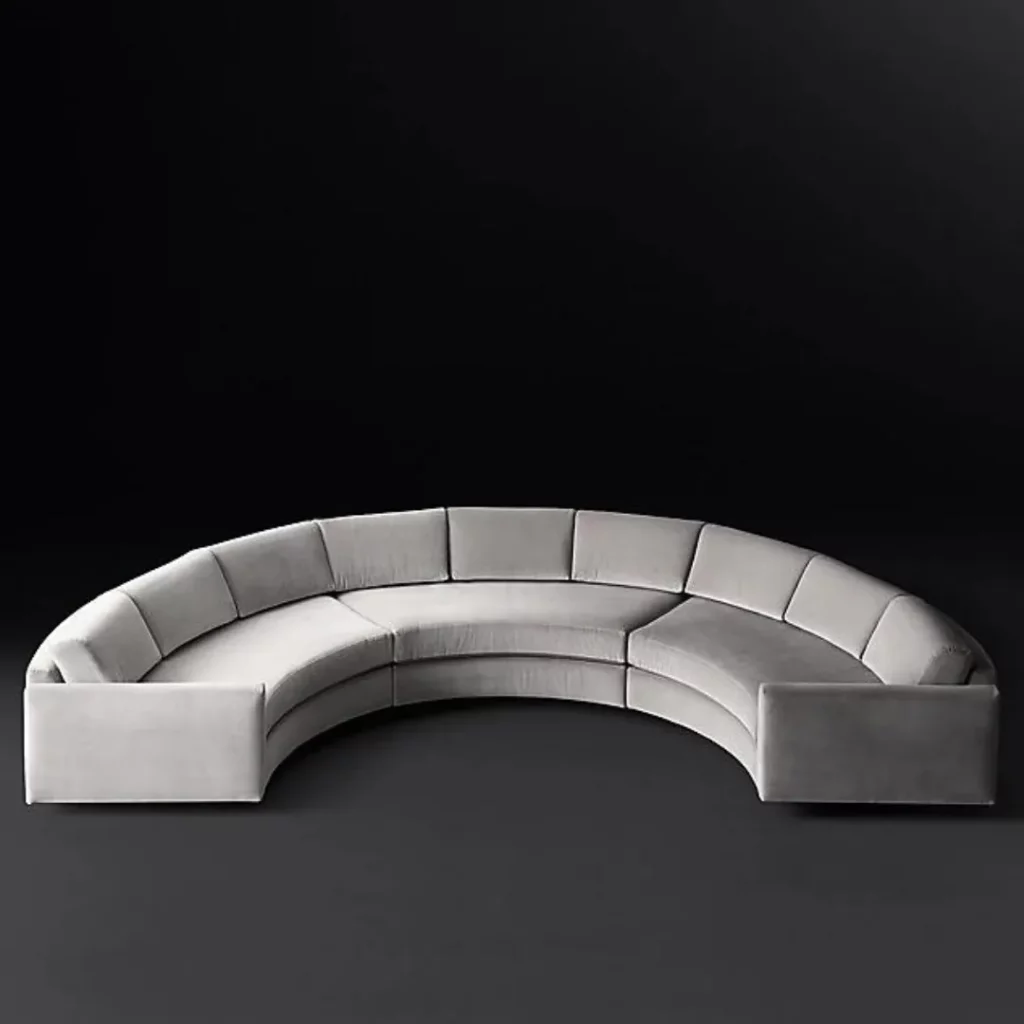 Pros of semicircular sofa layout
Suitable for families: this sofa is for families with more than four individuals. It curves allows everyone in the family to seat in a bonding or conversational manner.
Cons of semicircular sofa layout
Narrow doorways: the segment of a sectional sofa is large, and as a result, it's often difficult to go through doors
7.Yin Yang Sectional Layout
This sectional sofa layout is a large segmented design between two different couches. The Ying yang sectional sofas are arranged in opposite directions. The format creates a walk space between the two segments. The segments of these sofas allow harmonious attachment. It is space economical and suitable for small space living room.


Pros of Yin Yang Sectional Layout
Space utilization: it arrangement provide enough walking space in the living room.

Cons of Ying Yang Sectional Layout
Expensive: it is expensive
Linear-Layout
This is a horizontal layout format of sofa that is like that of L-shape –though; the L-shape sofa layout occupies more space than a linear arrangement. This is perfect if the space in your room is small. The linear design allows a large living room space to have more seating options that will enable your guest to display their outfit in a smooth way. If you desire to have your room sophisticated, stylish, and trendy, this layout can create a perfect match.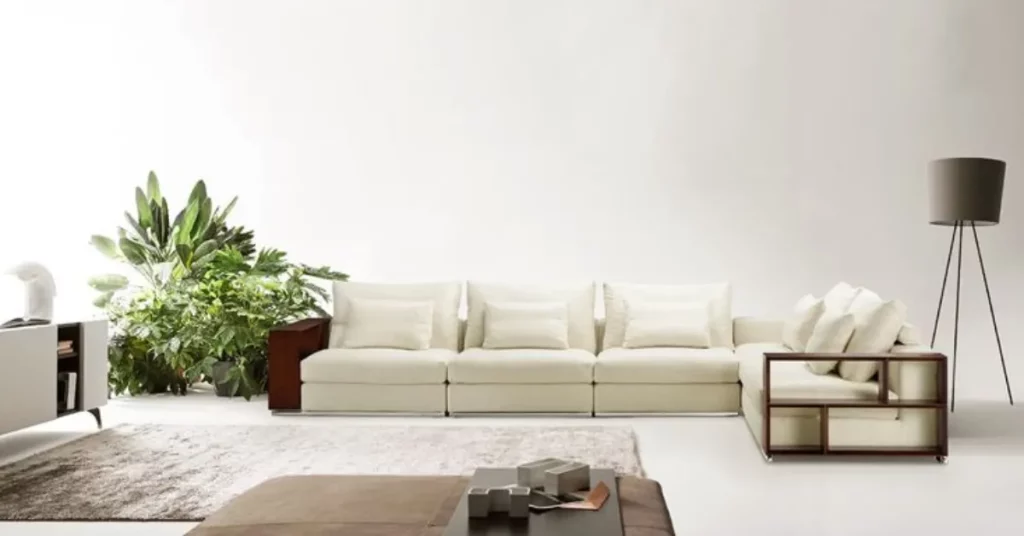 Pros of Linear-Layout
Flexible: these sectional sofas are flexible to arrange in a new apartment.
Compatible: the size and shape are very suitable for the size of your living room.
Metropolitan look: the U-shape sofa provide your living room with a classy and elegant appearance.
Create extra space: the sofa can fit into corners of the living room, creating an extra space for more furniture.
Cons of Linear-Layout
Summary
In choosing a suitable sectional sofa layout, consider the following; your preference, Budget, and living room size. The location and placement of a sectional sofa are essential to the look of the room design. Away for the above-listed layout of a sectional sofa, you can detach it segmented parts into pieces to suit the size of your living room (if small in size). Sectional sofas are fashionable and versatile for perfect interior design. The sofa can be split, combined and rearranged with other living room movable furniture. The design of a sectional sofa, durability, and quality is essential to fit your room space and also exude the quality of your personality.