"Shikibuton" is the Japanese term for "Futon".
Inspired by the traditional style of the "Shikibuton", William Brouwer, a famous woodworker from Boston, decided to make something similar. In 1982, he introduced the first futon sofa bed to the world.
Whether you need a couch or a bed, this clever piece of an invention serves them both!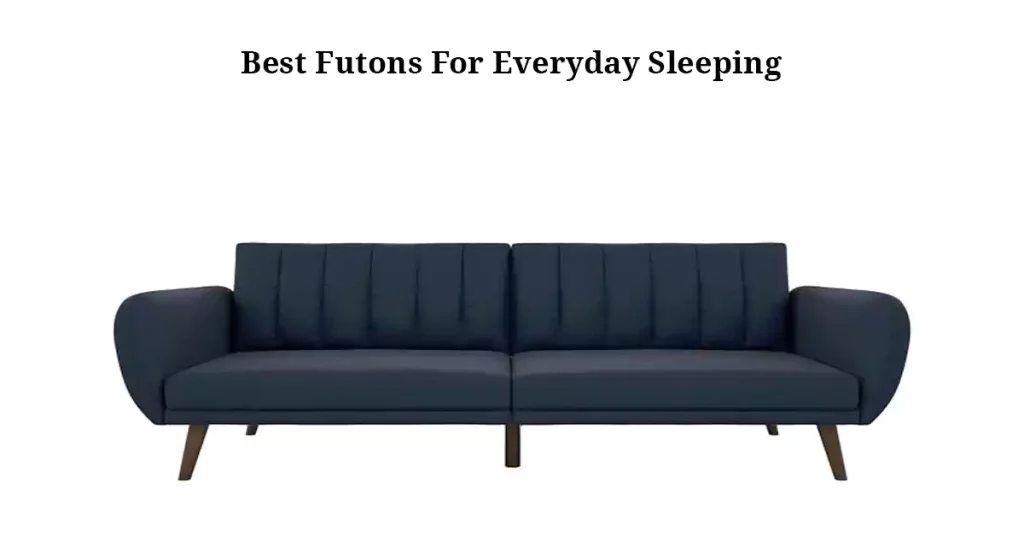 Now you don't have to worry anymore if your best friend drops by suddenly and decides to stay the night at your place.
Hey, who knows? Maybe YOU will end up sleeping in it most of the time since futon sofas are made of fluffy and thick materials to make you feel warm and comfortable.
The best futon sofa helps you keep reading your favorite novel for hours by providing optimal support to your back. Once you feel your eyelids getting droopy after the end of a hectic day, the futon sofa turns into a comfortable bed and encourages you to fall asleep quickly.
Best Rated Futon Sofa Choices in 2023
Not only futon couches are cheaper than the regular ones, but also they are much lighter in terms of weight, therefore, allows you to move them around easily.
Depending on where you live, how much space you have and for what purpose you want to buy a couch, you will find a wide range of sofas available on the market.
Make yourself a cup of hot chai tea and read along to the end of this article to know which one would suit your home the most.
Top Futon Sofa Comparison Chart
Image

Product

Features

Price

DHP (Editor's Choice)

* Metal
* 69 x 38 x15.5 (Inches)
* 600 (Pounds)

Jerry Sales

* Wooden
* 80 X 54.5 X 22 (Inches)
* 500 (Pounds)

Nirvana Futons

* Wooden
* 81 x 54 x 24.75 (Inches)
* 250 (Pounds)

DHP-White

* Metal
* 78 x 41.5 x 61.5 (Inches)
* Upper Bed: 200, Futon : 600 (Pounds)

Mainstay

* Metal
* 72 x 42.5 x 16.5 (Inches)
* 600 (Pounds)

Best Choice Products

* Wooden
* 69 x 33 x 30 (Inches)
* 550 (Pounds)

DHP Dillan

* Wooden
* 38 x 69 x 14.5 (Inches)
* 600 (Pounds)

Kodiak

* Wooden
* 79 x 32 x 5-6 (Inches)
* 300 (Pounds)

Nirvana Futons-Stanford

* Wooden
* 80 x 54 x 22.5 (Inches)
* 250 (Pounds)

Novogratz

* Wooden
* 0.5 x 43.5 x 16 (Inches)
* 600 (Pounds)
Our 10 Picks For The Best Futon
1. DHP Emily Futon Couch Bed | Best Small Futon
A piece of modern furniture with a trendy design can turn the dull, mundane look of your living room to a bright, cheerful one in an instant.
The Emily Futon Couch from DHP is an excellent example of that. With a split-back frame and sleek grey cushion materials, this product is built to fit into any small apartment.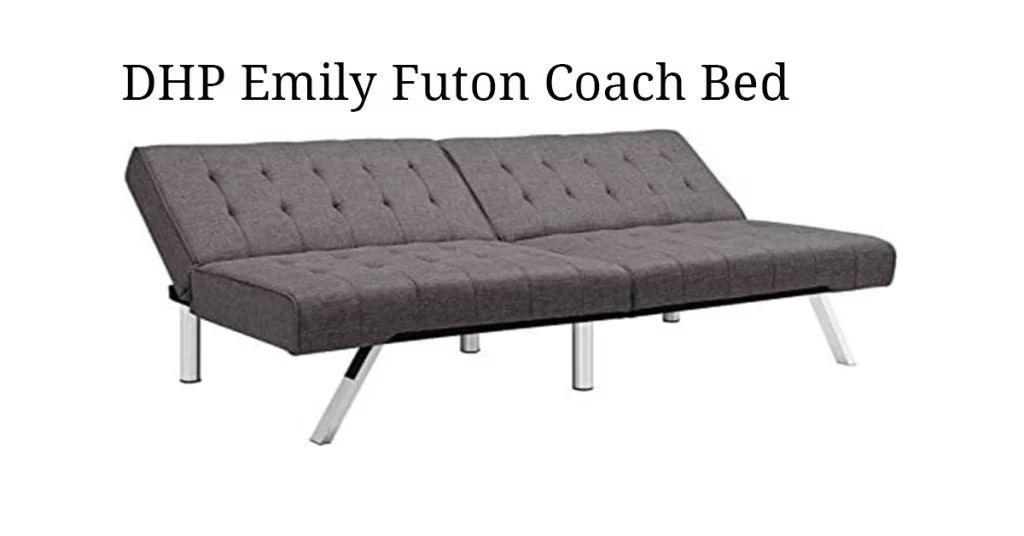 The squared tufted design on the surface gives this sofa an ultra-chic look. You can easily turn this couch into a comfortable bed with a swift motion.
If you are just moving into your new apartment, then you probably need a lot more furnishings to complete the whole look. Good news for you is that DHP offers a chair, chaise and ottoman that goes well with the futon couch and can easily be paired with.
If you are bad at assembling pieces, this couch might even give you a confidence boost! The whole thing comes almost pre-assembled except for the legs. Screw them on tightly and the couch is all set for you to start using right away!
It has a sturdy frame supported by six polished chrome legs.
You can recline the seat on either side for your convenience.
The design looks trendy enough to match your home décor.
The set is pretty easy to assemble.
The mattress is a little thin and uncomfortable to sit for a long time.
Bottom Line
You can use a mattress topper to make it more plush and comfortable. A firm mattress will also help you relieved from any back pain you may have been suffering. All in all, it's a good purchase within an affordable budget.
Read Also: Top 10 Futon Covers – Review
2. Jerry Sales Eldorado Futon | Best Quality Futon
Turning a spare room into an exciting game corner seems like a lot of fun. But do you know what would add a nice touch to that room? A futon sofa that can support you and your partner's back while you guys finish off a great match!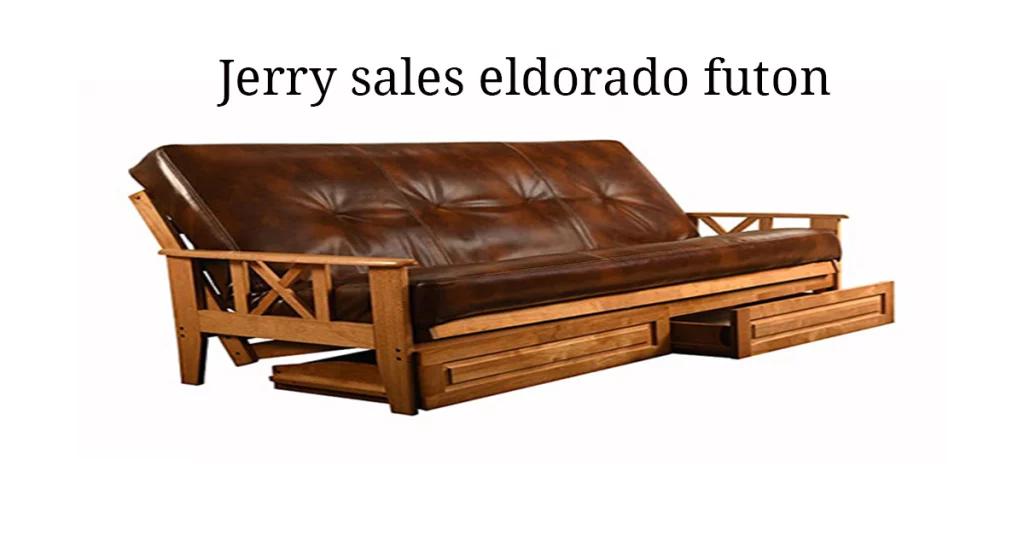 Jerry Sales Eldorado Futon gives you a similar experience with its elegant design and solid hardwood frame. Your apartment will look a little fancier with this couch as a part of your decoration. So, get ready to receive a compliment or two the next time someone comes to visit your home!
The X-shaped frame opens up to reveal a comfy bed when you push on its backrest. The 8-inch coil mattress seems so comforting that you will want to lay on it as soon as you get home.
Being stylish is not the only thing Jerry Sales focuses on, the brand cares about your convenience too!
Now, you don't have to use an extra rack to hold all of your DVDs anymore. The futon comes with 2 drawers, which can easily be used for storing any small object like CD, DVD, newspaper, shoes, extra cushions etc.
The solid wooden frame gives the furniture a sturdy look.
The mattress doesn't sag even with regular use.
It has an easy folding mechanism.
The extra drawers help to keep everything neatly organized.
The parts are heavy-weighted, therefore difficult to carry and assemble.
Bottom Line
You might need assistance if you want to set it up at home. Although it weighs a bit heavy, this large futon couch is more durable and longer-lasting than its other competitors.
3. Nirvana Westfield Wood Futon | Best Comfortable Futon
If you have an artistic mind and want to create your masterpiece, then purchasing just a solid frame would be a good start.
The beauty of a frame only lasts as long as its paint remains intact. Keeping that in mind, Nirvana Westfield Wood Futon is given multiple finishing touches to make sure the paint doesn't fade away. The strong wooden structure of this frame adds a classy look to your home.
The frame is capable of accommodating any full-sized mattress measuring around 54×75 inches.
Depending on your mood, Westfield Futon will transform itself into a sofa set or a lounger in an instant. To turn it into a comfortable bed, lift the bottom part and pull hard. The arms of the couch will now act as the head and feet board of a regular bed.
Finding such a futon frame that is sturdy and comfortable at the same time is quite hard! This solid wooden frame is also equipped with an anti-slip mechanism to hold onto the mattress in a tight grip so that any mattress will be a good fit.
The solid wooden frame matches beautifully with any décor.
It can easily be transformed into a bed, sofa or lounger.
The product is eco-friendly considering the use of sustainable wood.
The frame features an anti-slip mechanism.
You might have to look elsewhere to find a suitable mattress.
Bottom Line
This frame is built in a way to make room for any full-sized mattress. However, if you still have a hard time finding a good mattress, then take a look at this plush 10-inch thick mattress from Nirvana.
4. DHP Twin-Over-Futon Convertible Couch and Bed | Best Futon Under 200
Do you have little kids who like to fight all the time?
You can put an end to that battlefield by making them share a bedroom! The precious late-night conversation will eventually lead them to believe that they can conquer the whole world only if they stay together.
A bunk bed like, DHP Twin-Over-Futon will be a cool addition to your kid's room. Without taking up any extra space, this couch features 2 beds and a sofa at the same time! The furniture also comes with two built-in ladders instead of a stairway.
You can use the lower bunk as a seating space or a full-sized bed. With 600 pounds of weight capacity, it is more than capable of bearing the weight of several adult persons. Any regular-sized mattress will fit right in with the dimension of the lower bunk.
The top part of the futon is, however, suitable for one person, which has a limit of 200 pounds. You can decorate it with any colorful standard-sized twin mattress.
The metal structure of this frame is well built.
It can serve as a couch and a bunk bed at the same time.
The contemporary design will catch your kid's attention.
This multifunctional futon saves a lot of space.
It is fairly easy to assemble this furniture.
You have to search for a mattress with the correct thickness.
Bottom Line
You can find a 6-inch thick memory foam mattress here. You will be able to use this mattress for a long time as they are tear-resistant.
Read Also: Top 10 Loveseats Slipcover of everyday use – Review
5. Mainstay Memory Foam Futon | Best Affordable Futon
When it comes to getting the top value for money futon on the market, Mainstay Memory Foam Futon is sure to steal your heart with its affordable price and reasonable quality.
Although you are getting this couch at a cheap price, one can never guess by the looks of it!
With a sturdy metal frame and matte leather surface, this black colored couch adds a classic vintage vibe to your home. The leather material is soft and makes you feel cosy when you sit down.
The main attraction of this product is the side arms that are flexible and can be folded in a 90-degree angle to use it as an armrest. And when you want to convert it into a full-fledged bed, the side arms help expand the surface area by lying flat.
So, what's the big deal about using a memory foam material on this couch?
Well, a memory foam lets you rest comfortably and adjusts to your seating position accordingly rather than the other way round. You have good support to your back and the foam evenly distributes the weight on the whole surface. It also helps people get relief from arthritis.
The faux leather material is easy to clean after a spill.
The adjustable side arms can be lowered if necessary.
The whole thing takes less than 10 minutes to set up.
The mattress won't sink under pressure.
It is good for people who are suffering from a pain condition.
The sofa might feel sticky on a hot humid day.
Bottom Line
As the faux leather material tends to sweat a lot, you might feel a bit stickiness in summer days. Keep a clean cloth nearby and wipe off the excess sweat or put on a bed sheet on the top of the futon to get rid of this problem.
6. Best Choice Products Futon Sofa | Best Futon Lounger
I used to fall out of my bed while sleeping in my childhood.
And it's a common thing that a lot of toddlers go through every day!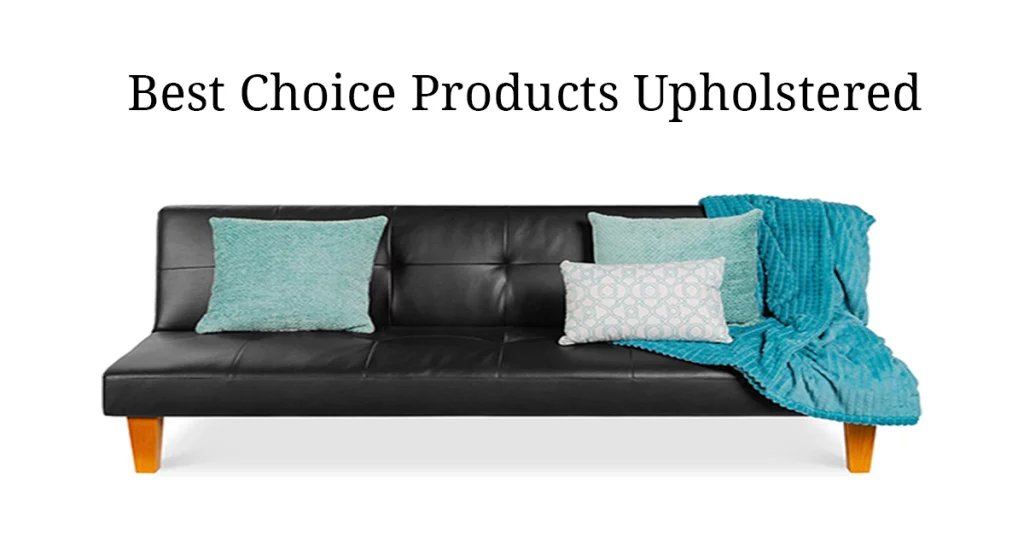 While it might take them some time to sleep in a proper position, in the meantime, you can purchase a low-profile bed that sits close to the ground, so that your kids don't get injured even if they fall over sometimes.
Keeping these criteria in mind, Best Choice Products brings you a futon couch which is only 1 foot off the ground. And the good news is, you can use this futon as a couch in the daytime and a twin-sized bed at night!
The sturdy wooden frame with a plush leather padding on top adds just the right amount of masculinity to this furniture. You can tell by the wide seating arrangement that it is suitable for holding at least three grownups at a time.
Now, let's talk about how quickly this couch turns into a flat surface to create a comfortable sleeping bed for you!
Just push onto the backrest until it goes flat down. The futon turns itself into a comfy, twin-sized bed within a second. The product is super light and easy to clean in case it gets dirty over time.
The couch is big enough to accommodate 3 persons.
Toddlers will sleep peacefully on this low-profile bed.
The leather material lasts for a long time.
The product is pretty easy to assemble in a short time.
The mattress is too firm to sleep on it for a long time.
Bottom line
The product isn't meant to be used for a permanent alternative to a regular bed. However, if you are intending to use it that way, put a mattress topper on top of it to make it more comfortable.
7. DHP Dillan Convertible Futon | Best Futon Sofa Bed
Neutral colors are often described as "earth tones".
These colors open up lots of possibilities in terms of decorating your home interior. And the biggest advantage is, they create a calming atmosphere and makes your home feel more welcoming to everyone.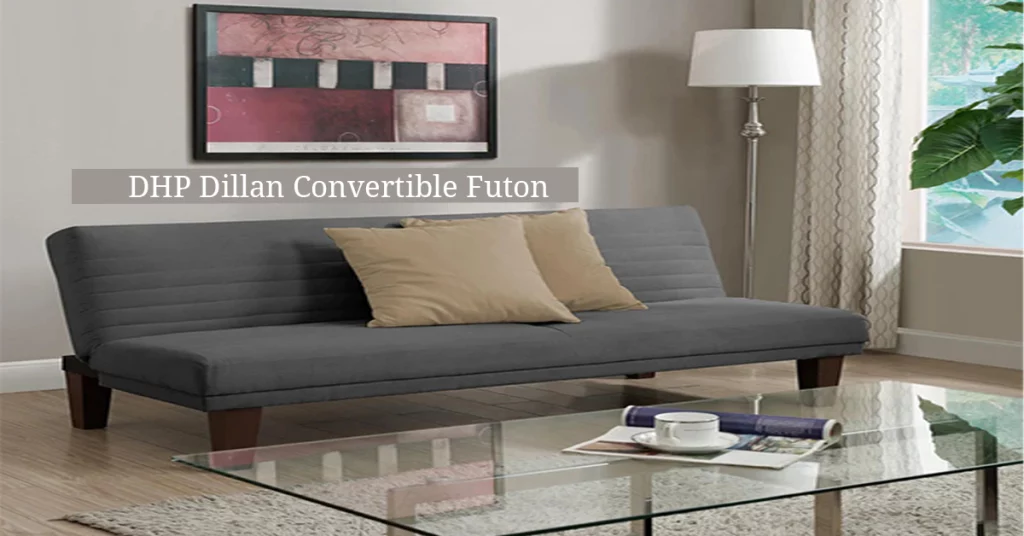 DHP Dillan Convertible Futon in Grey color offers you a similar experience with its sophisticated design and modern outlook. If you are looking for a sturdy yet a light-weighted futon for your living area, then this one might be the perfect choice for you.
The construction of the wooden frame is good enough to impress you. With a single push, you can turn this comfy couch into a cozy bed where you can spend a lazy afternoon.
Oh! And don't forget to check out its microfiber upholstery, which is soft enough to allure you to sit on it for hours, yet firm enough to keep your back straight.
You can set up the whole thing by yourself and it will take about 15 minutes at most! The casual appearance of this futon also makes it a great choice for any office space.
The neutral tone of this couch matches with any interior.
The wooden frame is flexible enough to convert effortlessly.
Its compact size makes it fit perfectly into small space.
The firm mattress supports your back while you sit.
The product comes with a 600 pounds weight capacity.
The legs of the couch are made of plastic.
Bottom Line
The plastic legs are big enough to hold and support the entire frame. It also has some wood adhesive on the bottom to protect your floor in case you want to move it around.
Read Also: Top 10 Best Back Supporting Sofas- Buy Now!
8. Kodiak Futon Lounger | Best Futon For Sleeping
Living in a college dormitory teaches you a valuable lesson in life. That is how to organize your belongings in a small space.
If you don't want to get a raised eyebrow or a frown from your roommate, then you better start buying multi-purpose pieces instead of adding extra furniture to your room.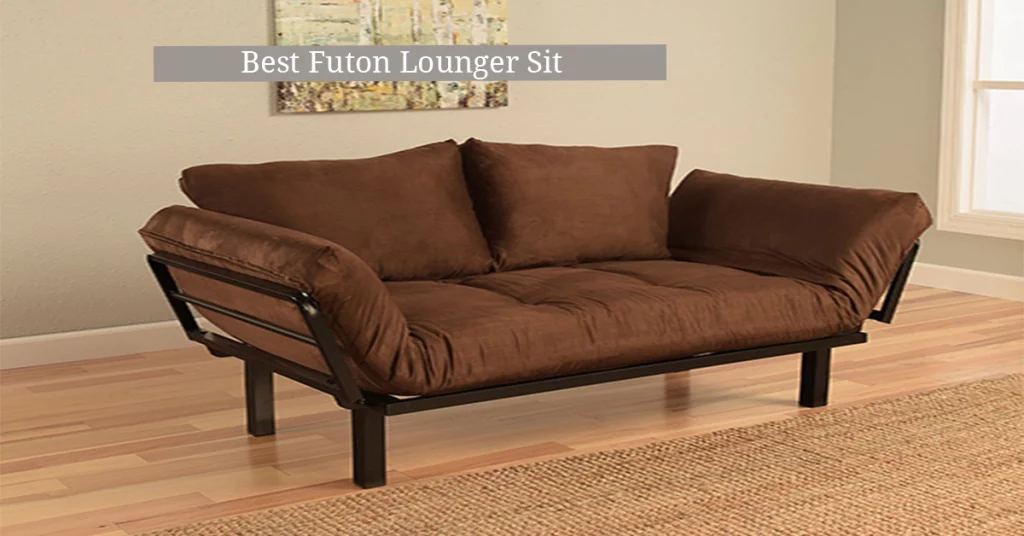 The convertible futon from Kodiak which can be used for sleeping, seating or a lounging position, is an excellent choice for a small apartment or a dorm.
Being small didn't stop this piece from being awesome, as this set comes with a strong wooden frame and a 6-inch thick mattress! You also get two matching soft pillows with it as a freebie. The whole contemporary look is good enough to take your home décor to the next level.
The mattress of this product is made of 80% cotton and 20% polyurethane foam material. The soft mattress, together with the pillow cushions, will give you a nice environment to fall asleep.
You can adjust the sides of the futon as per your wish. The total length of this couch can expand up to 75 inches if you keep both of the armrests down.
The soft mattress provides you with a good night's sleep.
It comes with two matching pillows for your comfort.
The product can be used for multi-purpose.
The arms on both sides of the couch are adjustable.
It is small enough to fit into a tight space.
The mattress might get flattened over time.
Bottom Line
It's a good idea to change the position of your mattress after a couple of months to keep its original shape. You can also look for a replacement mattress once it becomes unusable altogether.
9. Nirvana Futons- Stanford Set | Best Queen Size Futon
Back pain is a common problem found in elderly people.
As we become aged, the joints of our muscles and bones grow weak causing us to suffer from chronic illness. A good solution to this problem is to purchase a good quality couch with thick padding material.
The Stanford Futon Set from Nirvana Futons comes with an 8-inch thick mattress to firmly support your lower back. The heavy-duty wooden frame can withstand 250 pounds of weight at any given time.
If you are an environmentalist by nature, then you would be glad to know the wood that is used to make the frame of this futon is harvested from a sustainable source. With such minimal designs, Stanford Set still manages to add a touch of royalty to your interior.
You can convert this couch into a queen-sized bed within a moment. The mattress consists of several layers of poly-cotton padding on top and four layers of foam underneath it.
Even with all these layers, the mattress is still suitable for being used in the summer season as the cotton layer gets plenty of rooms to breathe out.
The product is suitable for people with lower back pain.
It supports the eco-friendly movement by using sustainable resource.
The thick mattress is super comfortable for long-term use.
The cotton material lets the mattress breathe easily.
It can't handle more than 250 pounds of weight.
Bottom Line
Although it has a limited weight capacity, it's still a good choice if you are looking for a durable couch frame with a comfy mattress. The firmness of the bed will also let people of any age sleep comfortably on it.
10. Novogratz Brittany Sofa Futon | Best Futon For Everyday Use
If you have a big circle of friends and you guys like to hang around at your place quite often, then an extra-large futon is probably a good option for you.
Novogratz brings you a four-seated futon couch with max 600 pounds of weight capacity. Slightly larger than the other items on our list, this product has a firm structure that makes it more reliable.
The couch is divided into two parts and they both fold up individually. Meaning, you can put one section up while the other section lies flat on the surface. The curved armrests also add a little beauty to the classic design of this furniture.
You can never go wrong with a futon that has slanted wooden legs on the bottom! The legs protect your floor as well as make it easy to move it around.
The polyester and foam-filled mattress offer you a great deal of comfort after the end of a busy day. The linen upholstery is kid-friendly! Ergo, if your toddler spill food or drink on this futon, you can easily clean it up with water and a bar of mild soap.
The detailed design of the couch gives it a sophisticated look.
The couch can accommodate up to 4 people.
The linen fabric makes it easy to clean any stains.
The furniture is well constructed to last for a long time.
The linen fabric might feel a bit uncomfortable on the skin.
Bottom Line
The mattress might take some time to get used to it. The linen material also makes the mattress wrinkle-resistant. You can also put on a mattress pad on top if it bothers you too much.
Read Also: Best Convertible Sofas Review & Guideline
Things To Consider When Buying Futon Sofa
Frames
You can't build a strong building without a solid foundation.
While the frame of a futon sofa is often overlooked, it's the main thing that is responsible for holding everything together.
Typically, there are two types of frames available on the market.
1. Metal Frame
A metal frame is strong and sturdy enough to last for a long time. Usually, these types of frames are much lighter. The whole thing can be assembled pretty quickly and you can move them around whenever you want to give your home a new outlook.
Metal frames are trendy and usually come at an affordable price. They are given a black finish to their design to match the décor of your home.
However, it might be a little uncomfortable to sit on your couch, if the mattress over the metal frame isn't thick enough.
2. Wooden Frame
The chic look of wooden furniture remains unbeatable forever!
The solid woodwork of the couch brings a traditional look into your home. If you opt for this frame, make sure to notice what type of wood it's using.
Frames that use maple or oak wood tend to last longer. They also help distribute the weight equally all over the place and make your seating arrangement more comfortable.
Wooden frames are noticeably on the heavier side. Also, you might have a harder time to set them up, if they don't come pre-assembled.
Covers And Exteriors
The cover of the mattress represents your personality. And it protects the material inside it too. So, it's important to make a good selection.
A cotton cover brings more comfort to our bodies while we sleep. But they might tear over time. If you want something more durable, then go for polyester, synthetic or acrylic fabric.
If you have small children who might spill a drink or two, then a faux leather cover will be a better option for you, as they can be cleaned easily. On the other hand, linen fabric is suitable for those who live in a hot climate, as they don't collect heat so much and breathes a lot better.
Size
Futon couches are built in a way so that it takes less space in your room. You should still measure the free space available in your room and check it to see if it fits the dimension of the couch you are going to buy.
You can also choose the mattress sizes for the sofa frame. Different sizes like a single, twin or queen-sized mattresses are available.
If you live in a dorm or a small room, then a foldable futon couch will be a better option for you.
Read Also: Best Sectional Sofa Review – Top 10 Review
Frequently Asked Questions
1. How Long Does A Futon Sofa Last?
Answer: It depends on the quality of the product that you purchased. Typically, with a few maintenances, you can expect one to last around 5 to 10 years. After that, you can try reconditioning the product to lengthen its lifespan.
2. Should I Purchase A Thick Mattress Or A Thin Mattress?
Answer: A mattress should at least have 6 to 8 inches of thickness. A thick mattress will let you sit comfortably and protect you from the hard surface of the sofa frame.
3. Can I Clean My Futon Sofa Bed?
Answer: You can wash the cover of the mattress once they get dirty or stained. However, make sure to read the manual if it's washable at home. It's always a good idea to ask for professional help if you aren't sure.
4. Can I Put A Regular Mattress On My Futon?
Answer: If you are going to use the futon as a bed, then you can put any regular mattress on it as long as it fits properly. However, an ordinary mattress doesn't fold, so you won't be able to use it as a sofa set anymore.
5. How Can I Stop My Futon Mattress From Getting Flattened?
Answer: The mattress that you use regularly, will get flattened over time. To even out the signs of wear, you can turn the mattress from top to bottom after a couple of months.
6. Will I Be Able To Sleep Peacefully On A Futon?
Answer: Yes. The futon is designed in a way to provide you with good support to your backbone. As a result, you will stop suffering from back pain and sleep more peacefully.
7. Where To Get A Futon?
Answer: Well, your local shops should have it in their collection. You can go and choose the one that fits your bills. However, you're likely to have less color and size options. Ordering from Amazon can be a better decision variety and option wise.
Final Words
Futon sofas are a minimalist's first choice. This furniture is meant to fit into any small space.
As this product is most probably going to be used frequently, it's a good idea to give the mattress a sunbathing treatment once a month to get rid of all the bacteria that might cling on to it over time.
The best futon for everyday sleeping will decorate your room. At the same time, it will serve as a comforting place where all of your family members can gather around and have a good time. Hopefully, you will be able to select the perfect one for your home after you have gone through this article.