Are you thinking of buying a sofa for your living space or you need to plan for an additional sleeping unit for your home?
Don't worry if you are confused about the choice to be made between the two! There is an alternative that would save you the effort of compromising.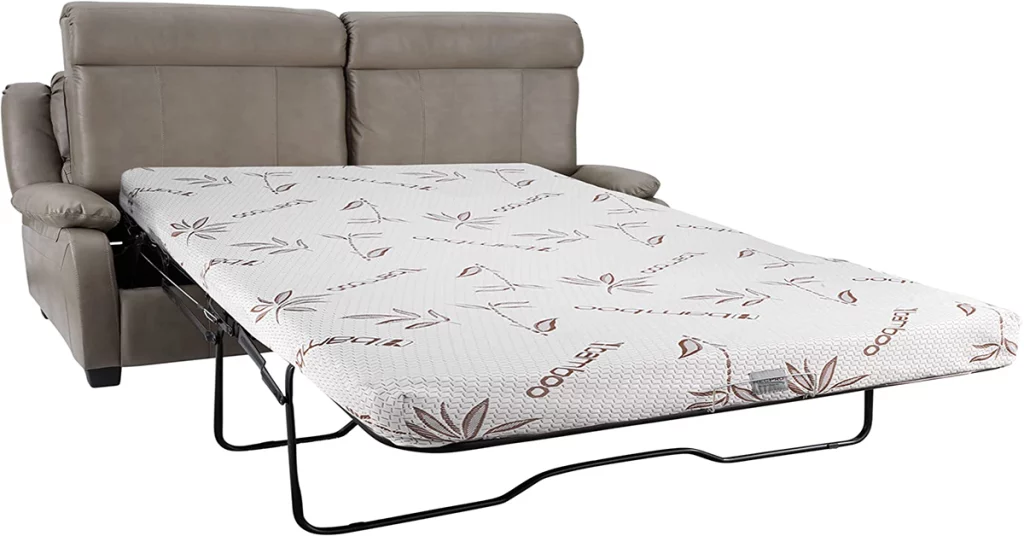 A sleeper sofa is a solution you need. It doubles up as a sofa as well as a comfortable sleeping bed. A sleeper sofa can be easily converted from a couch to a bed, offering a sleeping space when you need it. It is especially beneficial when you have someone coming over and need an extra bed. These sleeper sofas come in various designs that fit into a wide range of spaces.
Choosing the right sleeper sofa
Various designs, materials, cushioning, etc. go into making a comfortable sleeper sofa which is durable also. The material used to build the basic structure of the sofa, the material used for padding up the cushions, the design and mechanism, etc is a few of the important things that need to be checked before choosing a suitable sleeper sofa.
Because of these various variables, it sometimes becomes difficult to choose the right sofa. Apart from the comfort being an obvious factor, one needs to even consider the durability of the sofa. Especially with the kind of amount being spent to buy a sofa, the expectation is that this piece of furniture would last for a longer period of time.
Budget is another important aspect that needs to be factored in. With all the options that are provided, you would not want to cross the budget for a feature that you are less likely to use.
This would be a difficult activity and does take a lot of time and effort from you. To help you in this effort to identify a suitable sofa, we have come up with our review of our options for the best sleeper sofas of 2023. We have provided a list of the 10 best sofa options with all their features on offer, the best features of these sleeper sofas, and the not so best features of the sleeper sofas. We have further gone ahead and provided a buying guide which would be helpful for you to buy a suitable sleeper sofa.
Read through our review of the best sleeper sofas before making a final choice.
Comparison Table of Best Sleeper Sofas
Image

Product

Features

Price

Divano Roma sleeper

* Soft linen
* 58 x 27 x 30 (inches)

Homelegance sleeper

* Fabric
* 65.5 x 98 x 39 (inches)
* 145 (lbs)

Ashley Zeb queen

* Microfiber / Nylon
* 38 x 82 x 38 (inches)
* 189 (lbs)

Ashley Larkinhurst

* Polyfiber
* 39 x 89 x 38 (inches)
* 204 (lbs)

Devon Signature

* Linen & faux leather
* 32.5 x 70 x 35.5 (inches)
* 142.5(lbs)

Fun Furnishings

* Suede microfiber
* 25 x 39 x 20 (inches)
* 10 (lbs)

DHP Hamilton Futon

* Microfibre
* 37.5 x 71 x 32.5 (inches)
* 88 (lbs)

Fun Furnishings

* Suede microfiber
* 25 x 39 x 20 (inches)
* 10 (lbs)

Ashley TibbeSleeper

* Polyester
* 39 x 78 x 37 (inches)
* 166 (lbs)

Dilleston Sleeper

* Bonded leather
* 73 x 37 x 35.5 (inches)
* 94.6 (lbs)
Read More: Best Recliners 2023- Product Reviews And Buying Guide
Best Sleeper Sofas 2023
We researched the various options currently available for sleeper sofas and have identified what we consider to be the top 10 best sleeper sofa options. We have a detailed review of each of our top selections. The build quality, features available, durability, quality of the materials, etc. are few of the criteria that we considered to shortlist the best sleeper sofas.
1. Divano Roma Convertible Sleeper (Contemporary look with a compact design )
This convertible sofa from Divano Roma has a contemporary look. It comes in a combination of two colors, which blend well with most of the modern designed living spaces. The combination of Blue and Beige is the most popular option, with variants available in other two-tone combinations. It has a regular sofa design which can comfortably seat two people, with armrests on both ends. With its smaller dimensions, it can fit even in most of the small spaces.
High-quality upholstery and cushioned comfort
The upholstery of the convertible sleeper sofa is made of soft linen. The material adds to the neat contemporary look of the sofa. The linen fabric has a soft feel which provides comfort to sit or sleep for a longer period of time. The soft upholstery is aided by cushion padding which is made up of memory foam. This cushioning not only provides for a plush comfortable seating but also is safe compared to other cushion materials like innerspring.
Easy transformation mechanism
The sofa is easily converted into a bed of XL Twin size, in which one person can comfortably sleep. The sofa itself is comfortable for the seating of two people. The mechanism used in this sofa is a pull-out mattress mechanism. This mechanism is easy and does not require any additional effort. It can be easily pushed back and converted into a sofa.
Hardwood frame that lasts for a longer period
Two cushions provided for additional comfort
Less cost and offers value for the money
Lightweight and easy to move around
Uneven sleeping surface when laid out as a bed
Bottom line:
It is one of the best small sleeper sofas available in the market. It has some uneven surface, with the mattress not on the same level as the sofa seating. However, this can be overcome by placing an additional mattress or cushion. Apart from this, it has a smooth mechanism as well as a soft comfortable surface to sit and lay down.
Read More: Best Posture for Sitting at a Desk All Day Long- In Details Guide
2. Homelegance Ferriday Sectional sleeper (Comfortable seating with ample storage
The sectional sofa provides a comfortable convertible option as a sleeper sofa. It also has ample storage facilities. The design has a lift-up chaise option which reveals the storage unit. Most of the storage options provide the facility to store only small handy items. However, the storage option in this sofa has a larger space. Pillows, cushions, books, and other items can be easily placed into the storage unit. It is easy to access as you only need to lift up the lid of the chaise. Without any hassles in the operation, it is a good sleeper sofa with storage.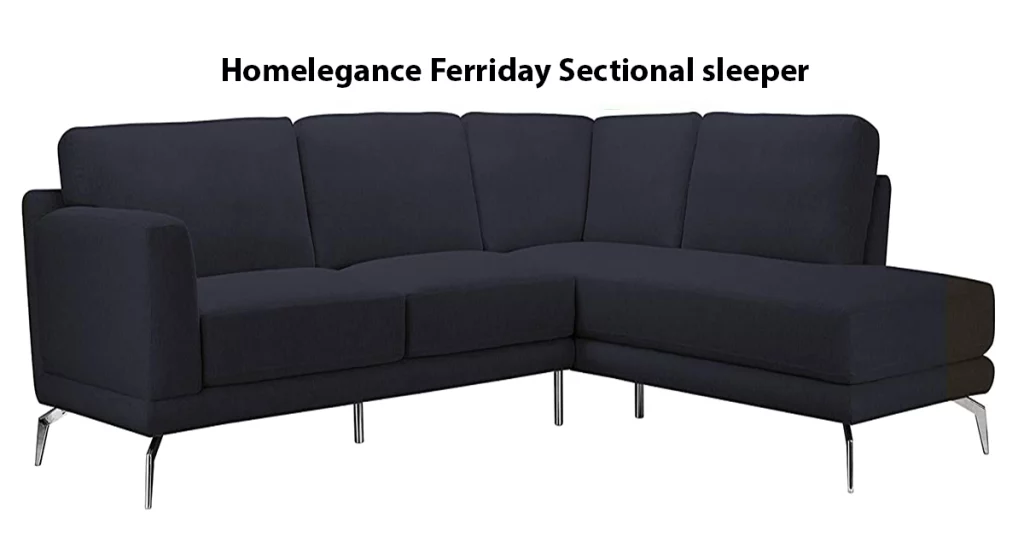 The strong robust frame and durable design with comfortable cushioning
The sleeper sofa is made up of a plywood frame that has a strong and robust build. The sofa can accommodate nearly 600 lbs. of weight without any damage to the frame. The build is durable and can last for a longer period of time, even after regular usage. The upholstery is made up of customized fabric that is soft and easy to maintain. The cushions are comfortable with soft padding that provides for a convenient seating and sleeping option.
Easy pullout convertible design
Apart from being a comfortable seating option, this sleeper sofa can be easily converted into a bed once the trundle is pulled out. It has a smooth and easy mechanism that does not take much effort to pull out the trundle. The pull-out trundle along with the L-shaped sofa design offers large sleeping space for an individual. It can also accommodate another person. The pullback mechanism is also easy and you can convert it back into a sofa without much effort.
It has a space-saver design that provides optimum space utilization
Collapsible headrests allow the adjustment of head support as per seating posture
Easy to assemble with minimal tools
Has a modern contemporary look
Upholstery is easy to clean
Low quality plastic legs
Cushioning is hard
Bottom line:
This sectional convertible sofa is a nice option as a sleeper sofa with ample storage space. It has a comparatively larger sleeping space within a compact design, that would fit well within fewer spaces. The study frame takes up the whole weight, with not much pressure applied on the comparatively weaker legs.
Read Also: Isn't it good to sleep in a recliner chair?
3. Ashley Zeb queen size Sleeper Sofa (Minimalistic and modern design)
This sleeper sofa from Ashley offers a simple, minimalistic, yet modern design. It offers a contemporary look for the sofa which can fit into any modern living space. It offers a very comfortable sleeping option when the mattress is pulled out. The box cushions and the linear track arms provide an aesthetic look to the sofa. The pull-out bed is supported in a strong metal frame which is minimalistic to look, but sturdy enough to support comfortable sleeping. The overall look even after the bed being pulled out is simple and elegant.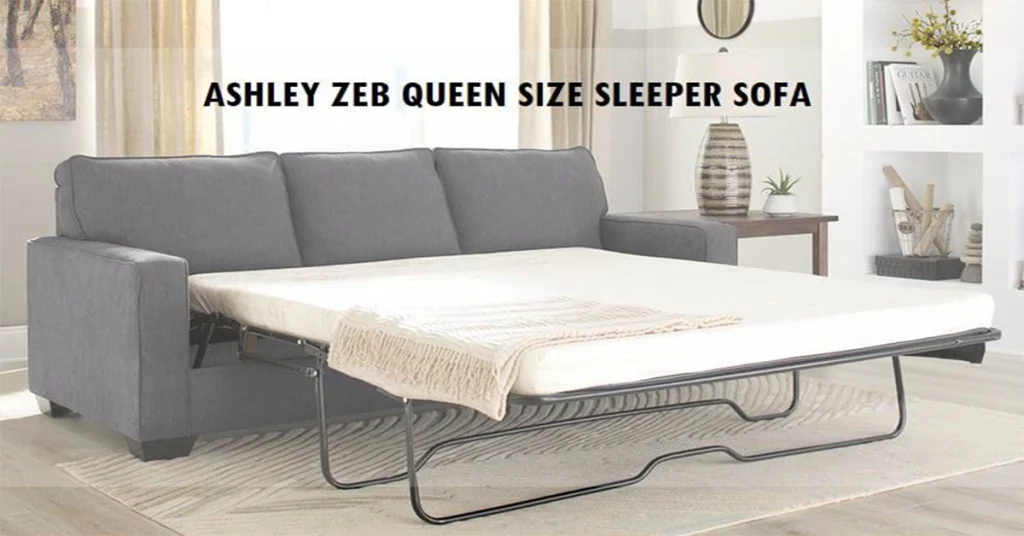 Durable upholstery and comfortable memory foam cushion
The upholstery of this modern-looking sleeper sofa is made up of a Nylon-polyester microfiber. This is soft as well as highly durable. The upholstery offers a soft feel when sitting and sleeping. The maintenance is easy and can be cleaned easily in case of any spills. The cushioning of the sofa is made up of memory foam which is soft and plushy. They also have a good air-flow mechanism which ensures cool and comfortable sleeping during the nights.
Strong and durable frame
The body of the sleeper sofa is made up of a strong wooden frame. The frame is durable and can support excessive weight and regular usage. The pull-out bed is supported by a strong and balanced metal frame which will ensure safety and comfort while sleeping. The legs are faux wooden legs which complement well with the wooden frame of the sleeper sofa.
Easy convertible mechanism into bed
Queen size bed for sleeping offers extra space
Easy assembly and easy to understand instructions
Can comfortably occupy smaller spaces
Excellent value for the money
Sliding cushions for uncomfortable seating
Bottom line:
This sleeper sofa is one of the best sofas to sleep on. The memory foam bed is comfortable to sleep on and is supported by a stable metal frame. It is not the most comfortable seating option, but you can fasten up the cushions not to slide. Overall a good value for the money!
4. Ashley Larkinhurst Sleeper Sofa (Cozy and comfortable sleeping option)
Ashley's Larkinhurst Queen size Sleeper comes with a traditional look and offers a comfortable option to sleep on. The overall design is uncomplicated with a simple pull-out mechanism to convert the couch into a queen-sized bed. The bed is supported by a metal frame which adds stability and allows for a comfortable sleep. The cushioning of the sofa uses a traditional innerspring mechanism which is covered up with comfortable foam and poly fiber upholstery. Unlike the general perception surrounding the inner springs, this mattress is of high quality and is safe to sleep upon.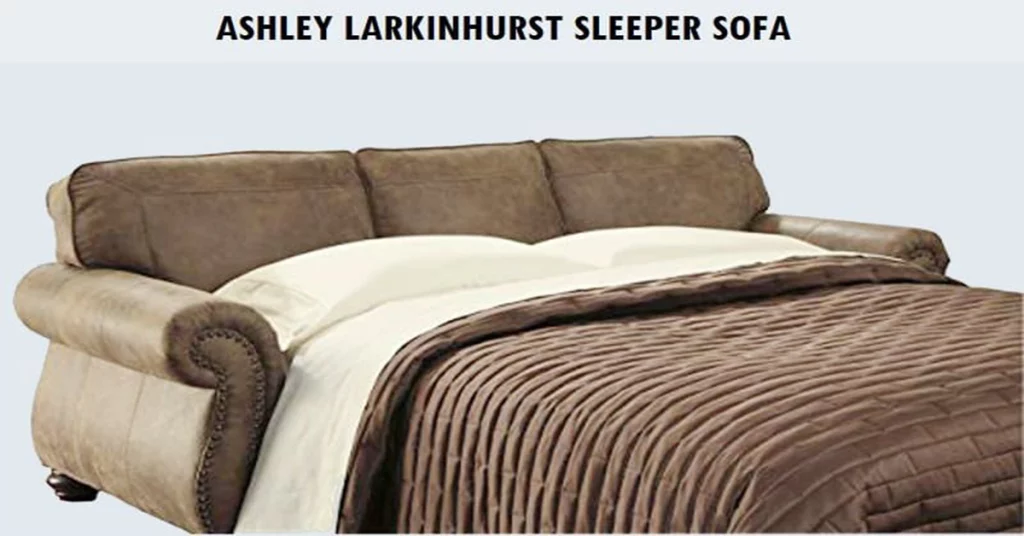 Traditional look
The overall design of the sleeper sofa gives out a classic traditional look. The rounded arms complement the classical look of the sofa. The seating has firm cushions and conceals the pull-out mattress like a traditional looking sofa. It has a corner-blocked frame which has a tightly placed backrest. The mattress can be pulled out easily and it gives a traditional look of a bed. The innerspring mattresses are a complement to the classic look.
Medium sized comfort
The sleeper sofa is ideal for medium spaces. It has an optimal design that can fit in perfectly as a sofa and convert into a queen-size bed. There is no need for a larger space. The corner-blocked design ensures that it can be placed comfortably against the wall. The simplistic regular sofa design ensures that no additional space is lost and blends in well with the design of most of the spaces. The bed measures 60'W x 72'D x 4.25'H, ideally suiting for most of the accommodations which aren't too small.
Highly resilient foam for comfort and longer duration seating
Easy to maintain poly fiber upholstery
Faux wooden legs complementing the looks
Easy pull-out mechanism
Not a sturdy frame that can take up more weight
Bottom line:
It is one of the best affordable sleeper sofas available in the market. It is not one of the strongest build sofas but offers a decent value for money. It offers a comfortable sleeping option and a classic look to the living space.
5. Devon Signature Sleeper Sofa (Compact designed sofa for small spaces)
The sleeper sofa from Devon is an ideal option for small spaces. The dimensions of the sofa are 70'L X 32.5" X 35.5" H, which would easily fit into most of the small spaces. The design is simple and would fit well with other furniture or can be conveniently placed into any corner. It has a pull-out bed mechanism with the dimensions of the mattresses being enough for a full-sized bed. This is conveniently enough for one person to sleep on it.
Comfortable sleeping option
The mattress is cushioned with memory foam. The foam ensures that it conforms well with the counters of your body. It gives a plushy and comfortable feeling when you sleep on it. The weight of your body is evenly distributed across the bed, thereby ensuring that you are in a safe position when you sleep on it. Even the seating is comfortable with the seat cushions made up of inner coils that are encased independently. This provides for additional comfort and can absorb more weight. The bed can support up to 600 lbs.
Easy convertible mechanism
It has a simple pull-out mechanism for the bed. The bed mattress is supported by a metal frame which can be easily pulled out as well as collapsed back. Even after regular use, the mechanism functions without any hassles. Simplicity is at the core of the design with very simple functioning.
Modern design with a mid-century look
Tufted back seat for additional comfort while seating
Wide track arms for comfort
Easy to maintain linen upholstery
The seat cushions are firm
The built is not durable for the longer run
Bottom line:
The sofa can fit into most of the spaces. It is not the most comfortable option to sleep on, but the cushioning provides enough comfort to a person while he is sleeping. Its simplicity and size make it one of the best full-size sleeper sofas available in the market.
Read also: Best Way to Make a Chair More Comfortable.
6. Fun Furnishings Sofa Sleeper (Comfortable sofa bed with ample space for children)
The sofa bed is a little larger and more spacious than most of the smaller sofa options that are available in the market. The couch comfortably fits in one person to relax and lounge, while it can fit two persons in a seating posture. The better part is the pull-out bed, which when drawn out can provide a comfortable resting option for smaller-sized individuals. This is most ideal as a sleeping option for children for any sleepovers or for children's rooms.
Comfortable and flexible cushioning
The cushion offers comfortable seating. It is filled with high-density foam which gives it a nice plush feel when someone is seated upon. It is ideal and comfortable for anyone to relax and spend a long time to read or sleep. The sleeper sofa is suitable for children and provides them a comfortable option to relax or play around. There are not any coils or other metal in the cushion which could render them dangerous for the children.
Simple and easy mechanism
The couch has a simple mechanism to convert it into a bed. It functions on an easy to flip out option. All you have to do is flip open the seating cushion which transforms into a comfortable bed. The cushions are flexible to be flipped and put back as a couch. Even after regular use, the mechanism works without any flaws.
Suede upholstery for a smoother feel
Lightweight and can be moved around easily
Removable slipcover for easy maintenance
Thick foam for extra padding
Comparatively higher price
Cannot be used by adults for sleepovers
Bottom line:
It is a comfortable sleeping couch and sofa for the children. The extra cushioned padding provides them with added comfort. However, it is not an ideal option for adults. Even though it saves on space, one can go for it only if there are children. Else there are other options at better prices.
7. DHP Hamilton Futon Sofa (Compact sleeper sofa with modern design)
DHP Hamilton's Futon sofa is ideal for small and modern living spaces. It has a simple futon style design that converts into a sleeper bed by bending the backrest. The overall design is compact and simple. Supported by a wooden frame, it has the look of a simple park bench with an added-on cushion. The dimensions are 71LX 37W X 33 H, which is ideal for most of the small spaces. The design ensures that it blends well with most of the other furniture. It can be placed in a corner or kept as a standalone furniture piece. It would need some distance away from the wall because of the reclining option.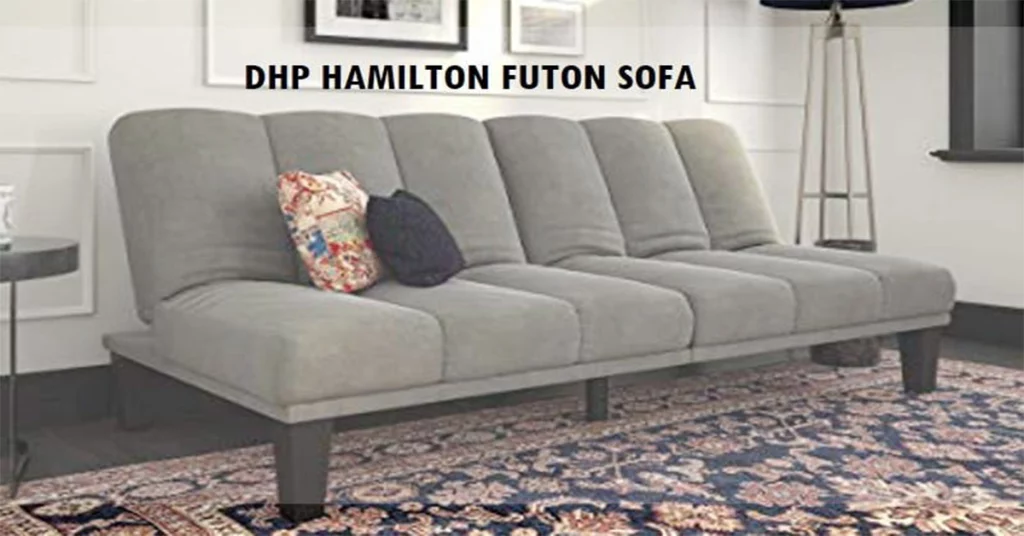 Comfortable padded cushion
The cushions have a padding of high-density foam which provides comfortable seating and sleeping. The foam is durable for a longer period of time. The material further is flexible and adjusts as per the shape of the body, which gives an enveloped and cozy feeling. Suede microfiber upholstery is used which ensures a smooth and soft feeling. You can spend long hours relaxing on the sofa without any effect on your skin or the body. The sofa is supported by a wooden frame that lends stability to the whole structure.
Easy futon style sleeper option
The convertible sleeper option is futon style. The mechanism allows for reclination of the backrest and can be laid out as a bed. There is no complex mechanism with a simple push back needed for the reclination. The bed can be converted simply back into a couch without any hassles or effort. It only takes a few seconds for the futon to be converted into a bed and back into a couch.
Can support weights up to 600 lbs
Not heavy and can be easily moved around
Centre legs for additional support
Protection for the feet against any scratches
Bottom line:
The compact and simple design makes it one of the best sleeper sofas for smaller spaces. Both the sections are a bit uneven but can be covered up by additional cushioning. It blends in well with most of the furniture and gives a modern look to your space.
Read Also: Effective Ways to Clean Fabric Sofa at Home.
8. Fun Furnishings SeudeSofa Sleeper (Simple and elegant sleeping option for children)
This sleeper sofa from Fun furnishings is an ideal option for children. It has a simple mechanism that can be easily converted to a bed without much effort. The cushions are comfortable and flexible. The extra padding in the cushions makes it a good option for the children as it provides an extra layer of comfort and protection. The overall size is compact and can easily fit into a kid's room or a guest room.
Safe and stable option
Since this sleeper sofa is mainly suited for children, safety is of paramount importance. The foam material used in the cushioning is fire retardant and does not catch fire. This averts any risk of accident and keeps the children safe. The cushions are of high-quality microfiber that is flexible. They do not cause any harm to the children when they play or jump around. The whole sleeper sofa is supported by a sturdy frame that lends stability and does not trip over or gets unbalanced.
Easy maintenance
The upholstery material is made of suede fabric which is easier to clean. With children involved, the chances are high that there are spill offs. The suede material can be easily cleaned with a dry cloth or a wet cloth. The cushion covers are slip-ons and can be easily removed, cleaned, and placed back on to the sofa.
Firm, yet comfortable cushions
Compact design which can fit small spaces
No assembly required
Can be moved around easily
Comparatively higher price
Non-durable build
Bottom line:
It is the most comfortable sleeper sofa for children. The price is on the higher end, since it is mostly useful only for children. In case you are thinking of an additional bed for a child coming over or need to update the children's room, this could be an ideal investment.
9. Ashley Signature TibbeSleeper Sofa (Sleek contemporary designed sofa)
This sofa from Ashley Signature line of sleeper sofa is a contemporary designed full sleeper sofa which is an ideal fit for your modern space. This goes well with both your living space as well as your bedroom. It has an overall sleek profile with straight and slim lines that accentuate the overall look. The contemporary color of slate grey is ideal for most of the modern furnishings and blends well with other furniture. The pillows have a coordinating color and complement the overall look. It gives a cool and a causal vibe.
Comfortable cushion
The core of the sofa cushion is made up of high-quality foam. This provides an extra cushioned padding. Since it does not have inner springs, there is no fear of any metal breaking out of the cushions. The foam allows absorbing the pressure applied on the coach and conforms to the shape of the person sitting or sleeping. The upholstery is made of polyester and lends a soft feel.
Convenient pull-out mechanism
The convertible mechanism has a pull-out feature. The mattress can be pulled out of the sofa with a simple movement and without much effort. The mattress rests well as an extension to the sofa for a convenient sleeping experience. It can be moved back easily to convert it into a couch. Even after continued use, the mechanism works without any snag.
Comfortably fits in larger spaces
No assembly required as it comes assembled
Value for money
Comes with additional pillows
Solid frame for stability
Weak plastic legs
Need extra foam mattress for longer sleeping hours
Bottom line:
The large space makes it one of the best twin sleeper sofa options available. The 3 inches mattress is comfortable for sleeping for a short period of time. Addinga cushioned mattress to the sofa, transforms into an efficient sleeper sofa where two people can sleep comfortably.
10. Dilleston Sleeper Sofa bed (Modern Futon style sleeper sofa)
The design of this sleeper sofa is futon styled i.e. the backrest reclines into the bed position. It has a modern look to it with a contemporary design fitting well with the modern living spaces. The design has fine straight lines that accentuate the overall look of the sofa and the bed. It has a tufted design to the cushions, and this adds to the overall look of the sleeper bed. The black color of the cushion is in line with most of the modern furniture. The chrome metal legs are another feature that helps in a neat and modern look.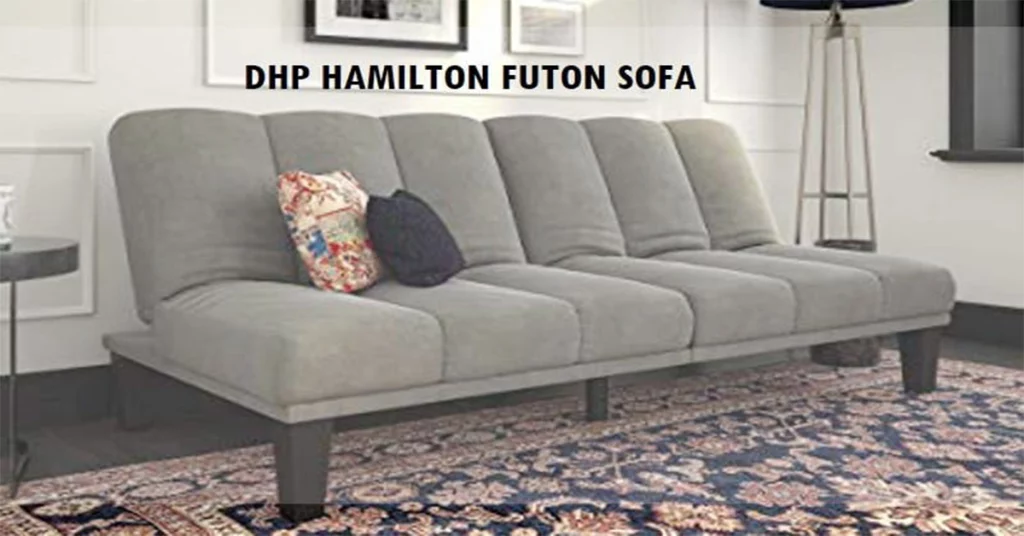 Elegant and comfortable cushion
The black upholstery is made up of bonded leather. It provides a fine and rich look. The upholstery wraps the foam cushion. This provides a plushy feel for anyone sleeping or sitting on the sleeper couch. Especially, it is comfortable to sleep for longer hours. Both the seat as well as the back of the cushion has foam padding.
Sturdy design
The structure of the sleeper sofa is made up of solid wood, which can support weights of nearly 500 lbs. The back seat which leans back and converts into a bed can accommodate a pressure of 300 lbs. It is well supported by metallic legs that can sustain the weight both as a coach as well as the bed. The overall sleeper sofa can comfortably host two middle-sized individuals.
Easy maintenance with bonded leather upholstery
Can be assembled easily
Simple design provides maximum space utility
The futon type bed is easy to operate
The couch slides back when additional pressure is applied.
Bottom line:
The modern look and easy to use design makes it one of the best modern sleeper sofas that you can check out for. While the overall build quality is good, there are chances of wear and tear with the upholstery.
Read Also: Best loveseats for small spaces.
Buying guide to select the best Sleeper Sofa in 2023
A good sofa bed is not only a great addition to your living room, but also offers a comfortable sleeping solution for your guests. Choosing the right sleeper sofa helps in having the most optimum utilization of the space that is available. By doubling up seating and sleeping options in a single piece of furniture, you can use the space saved for other purposes. Few of the sleeper sofas are so comfortable that you can use them in your bedroom as well, as an alternative for your bed.
The number of designs and options available for a sleeper sofa has increased over the years. This is an advantage because you have multiple options to choose from; but at the same time, the trouble of choice also comes in. Right from simplistic plaid and floral designs to luxurious and plush cushions, there are quite many options that are available in the market.
While, we have listed the 10 best sleeper sofas that we felt are the best. We also understand that you would be interested in exploring more options before you decide on the final choice. We have come up with a buying guide which would provide you with the required information that needs to be known about the sleeper sofas.
Here are a few things that you need to know and check out while shopping for the best sleeper sofas for you.
Type of Sleeper sofa
The typical idea that forms in your mind when you think of a sleeper sofa is that of a sofa where the mattress is pulled from under the sofa and a bed is formed. However, there are many sleeper sofa types available in the market these days.
Pull-out sofa bed: While this is a traditional design, the mechanisms have improved over the period of time. Most of the hassles involved in pulling out the mattress, the gap between the sofa cushioning and the bed etc. are mostly a thing of the past. The sofa beds now pull out with a very easy and smooth action. Furthermore, they are designed such that there is no gap between the couch and the pulled-out mattress. Even the cushioning in most of the cases is attached to the platform. Hence, there is no additional work of putting them on.
Futon type sleeper sofa: This is another popular design used for sleeper sofas. In this, the back part is laid out flat, transforming the sofa into a bed. As in the case with pull-out sofa beds, even the futon sleeper sofas have come a long way in respect to their design and mechanism. Many of the modern sleeper sofas with Futon design have an effective mechanism in place. This helps to easily lay the back part and again retrieve it back to a couch position without any hassle.
Hybrid sleeper sofa: There are larger sized sleeper sofa options available which have both the functioning of pull-out and futon types. These sofas have an option like a futon wherein you can lay the back part creating a bed. Further you can pull out the mattress forming an additional large bed. Higher end hybrid sleeper sofas have both these functions perform smoothly without any issues with the mechanism.
The type of Mattress
Apart from the design & mechanism, the type of mattress used in the sleeper sofa also plays an important role in determining the quality of the sleeper sofa. Thin mattresses with innerspring were the type of mattresses which were traditionally used. These were not the most comfortable of the options, especially with the innerspring popping out of the mattress. In few instances the mattress caves in because of not sustaining the weight.
Even in most of the sleeper beds which are currently in the market, innerspring mattresses are used. However, these tend to be of higher quality. Furthermore, enough cushioning is provided to protect against any spring popping up. Ifyou are looking at buying a sleeper sofa with an innerspring mattress, ensure that the cushioning is plush and thick.
Memory foam mattresses are the most preferred mattresses for sleeper sofas. The memory foam conforms to the counters of your body providing you with a soft pillow like feel. Unlike the innerspring mattresses, there are no springs in the memory foam mattress. Hence you would not have any challenges of metal popping out or the mattresses caving in on the metal frame. This is better option to consider if the price difference is not high.
Size of the mattress
The size of the mattress is another aspect you need to consider along with determining the make of the mattress. Most of the sleeper sofas use a single standard size of mattress. However, there are various options like queen size sofa, king size sofa, single bed, twin bed, etc. that are currently available.
While these options are available and you can be tempted to go for a bigger one, the size of the space available to fit in the sleeper sofa needs to be considered.
Materials used
Various materials are used to make a sleeper sofa. Depending on the budget, you can check out the sleeper bed that uses the material which is affordable. The materials used influence longevity as well as the comfort of the sleeper sofa.
For the frame of the sofa, wood or high-quality steel are the preferable options. For upholstery, select the fabrics which are more durable and easier to maintain. In many cases, a low quality which looks like higher quality materials are used to dupe the customers. Hence, carefully study the detailed specification of the materials used before making the final purchase.
Design of the Sleeper sofa:
Many contemporary designs are making the sleeper sofas look beautiful and fit into the modern living spaces. One thing you need to keep in mind is, in most of cases the sleeper sofa is used as a couch. Hence, check out how the design looks in the sofa mode and make the purchase if that design fits in well.
There are design options that are provided in most of the sleeper sofas, including – different colors, fabric types, shelves, storage units, etc.
In case your living space is a modern-themed one, a contemporary designed sofa would be an ideal fit. You can go for bold colors that add contrast and a different look to space.
FAQs
Few of the common FAQs regarding Sleeper sofas:
1. What are the different types of sofa sizes available?
The common sofa sizes available in sleeper sofas are: Chair, Twin, Full Sofa, Queen, Kings, Ottoman, Chaise sectional, and True sectional.
2. What is the typical weight of a sleeper sofa?
The weight of the sleeper sofa varies based on size and design. However, 150 lbs. to 220 lbs. is considered as a normal weight for the sleeper sofas.
3. What are the main designs available in Sleeper sofas?
Pull-out sleeper beds and Futons are the most popular design options.
4. What are the various upholsteries available for sleeper sofas?
Leather and Fabric are common types of upholstery. Microfiber, polyurethane, polythene, suede etc. are few of the other materials which are used for upholstery.
Wrapping Up
The options that we have listed are based on our research on various parameters. The idea is to provide you with a simple go-to list which you can refer to while buying a sleeper sofa. While we consider these to be the best sleeper sofas, there could be others which would suit you more. To help you in choosing the best option beyond our suggestions, our buyers guide could help you. The key is to clearly check out all the features and understand the purpose of each of them. You can quantify your requirements and your budget with the features on offer, before making a final decision to buy a sleeper sofa.